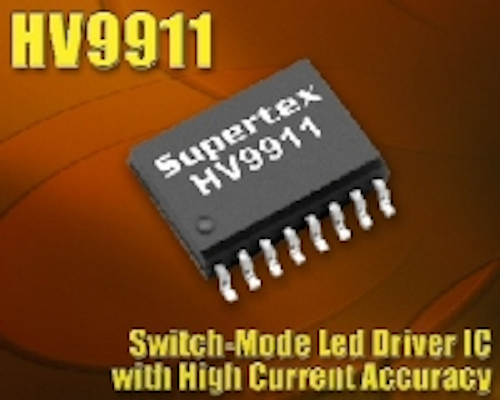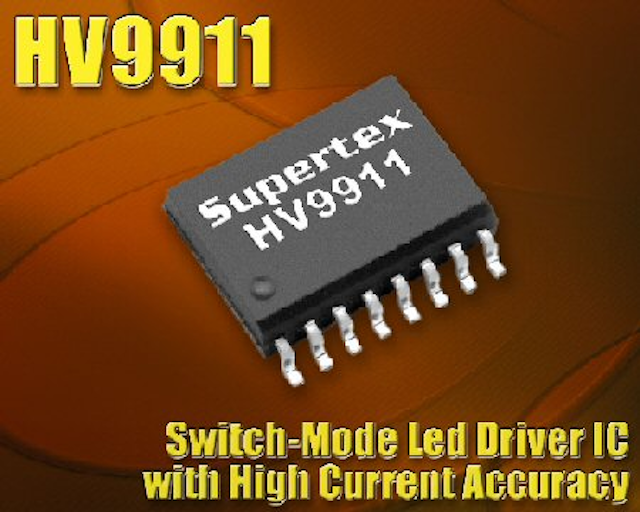 Date Announced: 01 Dec 2005
** HV9911 Utilizes a Closed Loop System to Achieve High Efficiency & Accuracy
SUNNYVALE, Calif. – Supertex (NASDAQ: SUPX), a recognized leader in high voltage analog and mixed signal integrated circuits (ICs), today introduced the HV9911, a new LED driver IC designed to provide high LED current accuracy and a very wide input voltage range (9V to 250V). It is specially designed for DC/DC applications such as RGB backlighting, automotive lighting, and battery powered LED lamps.
The HV9911 is a closed loop, switch mode LED driver IC. It features an internal transconductance operational amplifier for tighter line and load regulation of the LED current and good transient response to PWM dimming. It can be synchronized in applications requiring multiple LED drivers to prevent system sub-harmonic oscillations, often associated with driving multiple driver schemes.
This versatile IC features fixed frequency or fixed off-time operation for use in a variety of converter topologies such as boost, fly-back, and buck.
The HV9911 also features slope compensation to allow for wider operating ranges in fixed frequency mode, and an internal regulator for use in both low voltage and high voltage applications.
"As the LED lighting market continues to expand and LEDs continue to replace traditional lighting in a wide variety of applications, Supertex is leading the way in offering innovative and highly efficient LED driving solutions," states Ahmed Masood, Director of Marketing for Supertex.
"The HV9911 is a powerful and versatile LED driver IC that uses a closed loop system for exceptionally accurate LED current control."
The HV9911 is available in a 16-lead SOIC package (HV9911NG-G). The part is Green and RoHS compliant. Samples are available from stock. Lead-time for production quantities is 4-6 weeks ARO. Pricing is US$1.15 each for the HV9911NG-G in 1K quantities.
About Supertex
Supertex, Inc. is a publicly held mixed signal semiconductor manufacturer, focused in high voltage interface products for use in the telecommunications, networking systems, flat panel displays, medical and industrial electronics industries. Supertex product, corporate and financial information is readily available at www.supertex.com.
Contact
Ken Vickers Marketing Communications Manager 408/222-4810
E-mail:kennethv@supertex.com
Web Site:http://www.supertex.com