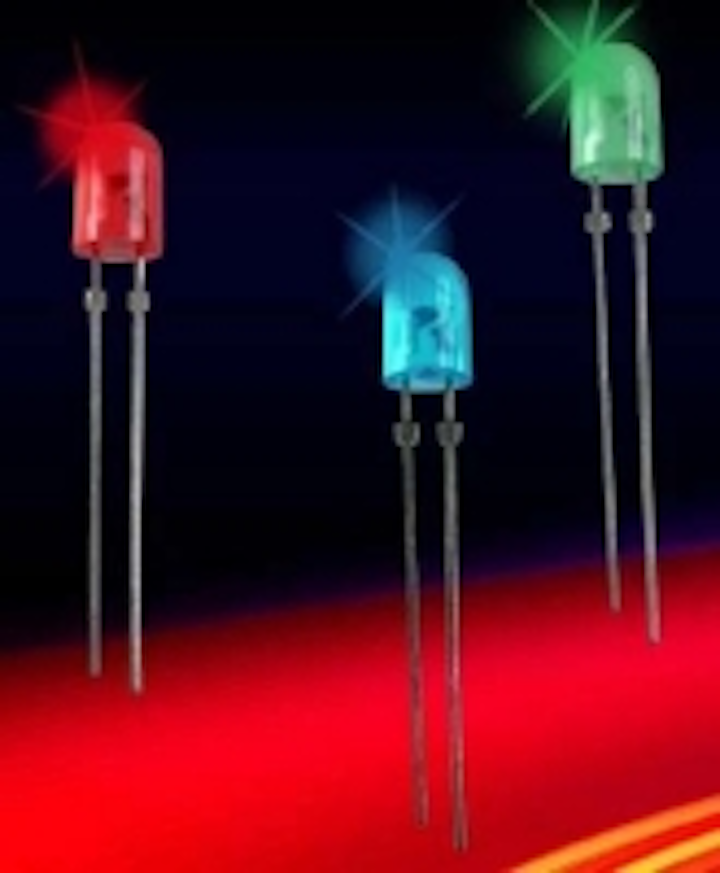 Date Announced: 09 Jun 2005
Providing design engineers with a selection of high-brightness visible LEDs suitable for full-sunlight outdoor signage and display applications, TT electronics OPTEK Technology offers a family of through-hole oval LEDs with a wide viewing angle of 110° / 50° in a full range of colors.
Designated the OVL Series, the LEDs are available in blue, green, red/orange and red in 3mm, 4mm and 5mm through-hole elliptical packages with color diffused lenses.
"These high performance LEDs exhibit superior optical performance in full sunlight for a variety of display and signage applications, including commercial outdoor advertising," explained Richard Saffa, vice president of the visible LED business unit for OPTEK. "In addition, our engineering team has the ability to match LED radiation patterns in pixel configurations to achieve specific effects when combining colors."
The OVL Series 5mm LEDs are available in blue (470nm InGaN), with a typical intensity of 500mcd (millicandela) measured at forward current of 20mA; green (525nm InGaN) with a typical intensity of 1750mcd;, red/orange (618nm AlInGaP) with a typical intensity of 800mcd; and red (624nm AlInGaP ) with a typical intensity of 950mcd. The OVL Series 4mm LEDs are available in blue (300mcd); green (1200mcd); red (400mcd). All the 4mm and 5mm packages feature viewing angles of 110° / 50°.
The 3mm OVL Series are available in blue (300mcd); green (1100mcd) and red/orange (430mcd). Viewing angle is 100° / 60°. Power dissipation for all devices is 130nW.
All the OVL Series LEDs are rated for operation between -40°C and +85°C and are compatible with lead-free soldering processes. A specially designed "stopper" on the through-hole leads aids in solderability.
The OVL Series LEDs are priced starting at $0.25 each in quantities of 10,000, with lead times from stock to 9 weeks.
OPTEK recently established a new business unit to market visible LEDs for interior and exterior displays and signage, automotive lighting, display backlighting and indicator lights for electronic equipment, as well as commercial, institutional, residential lighting and illumination applications.
OPTEK Technology is a leading provider of custom sensing solutions which incorporate the use of infrared, visible light, magnetic and fiber optic technologies focused on applications in office machines, industrial equipment, encoders, automotive electronics, military and high-reliability applications, and medical diagnostic equipment. Headquartered in Carrollton, TX, with additional facilities in Juarez, Mexico, the company is ISO/TS16949:2002 and BS EN ISO 9001:2000 certified. OPTEK Technology was acquired by TT electronics in December 2003.
Contact
TT electronics OPTEK Technology Carrollton, TX Janie Haynie, Product Marketing Director Phone: 972-323-2219
E-mail:visibleLED@optekinc.com
Web Site:http://www.optekinc.com