Supertex LED driver offers cost-effective two-terminal solution
Jun 30th, 2005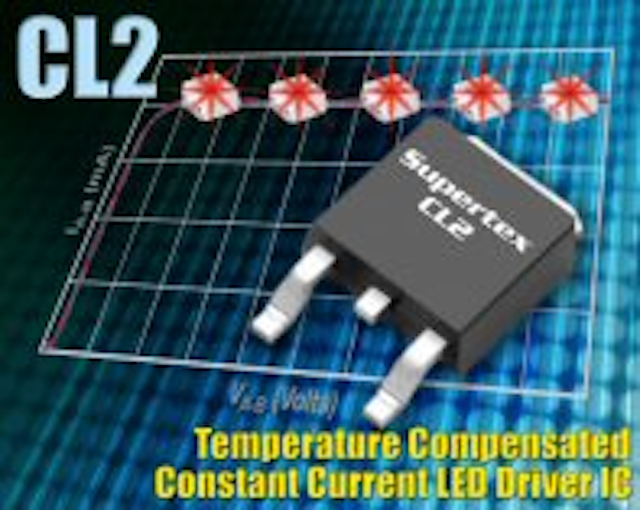 Date Announced: 30 Jun 2005
Supertex, Inc. (NASDAQ: SUPX) today introduced the CL2, a temperature compensated, two terminal, constant current LED driver that is trimmed to provide a 20mA(+/-10%) current at input voltages of 5-90V. Its wide input range makes it well suited for driving multiple applications with different operating voltages with a single device, thereby reducing design complexity for multiple products and reducing overall inventory cost.
The CL2 can also be used in parallel to provide higher currents in 20mA increments. The device can be used to drive long LED strings, and is suitable for a wide variety of LED applications, such as automotive lighting, LED signage, industrial lamp indicators, and decorative lighting.
"The introduction of the CL2 further broadens Supertex's family of LED drivers and strengthens our market position as a leading provider of LED driving solutions," states Ahmed Masood, Director of Marketing for Supertex. "The LED lighting market continues to grow as lighting designers and manufacturers realize the benefits LEDs offer in comparison to incandescents, and Supertex continues to lead the way in serving this market."
The CL2 is available in SOT-89 (CL2N8), D-PAK (CL2K4) and TO-92 (CL2N3) packages. Lead-time for production quantities is 4-5 weeks ARO. Pricing is US$0.22 each for the CL2N3, US$0.25 each for the CL2N8, and US$0.35 each for the CL2K4, all in 5K quantities.
Contact
Ken Vickers Marketing Communications Manager 408/222-4810
E-mail:kennethv@supertex.com
Web Site:http://www.supertex.com