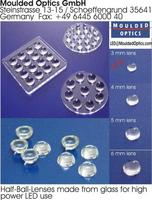 Date Announced: 17 Jun 2005
MOULDED OPTICS GMBH, a worldwide leader in moulded glass lenses for light technology with spheric, aspheric as well as free-shape surface, has designed a new product line:
Half-Ball-Lenses made from B270 glass
MOULDED OPTICS is able to provide these standard lenses from some ten thousands up to some million pcs per year for very cheap prices, comparable with plastic lenses.
For all lenses from MOULDED OPTICS made of B270 or Borosilicate glass we can provide a certificate for RoHS and for WEEE.
We can provide also lens arrays. So you are able to reduce your costs for mounting and calibration.
Contact
Moulded Optics GmbH Steinstrasse 13-15 35641 Schoeffengrund Germany Attn Mr. Martin Pfeil
E-mail:led@mouldedoptics.com