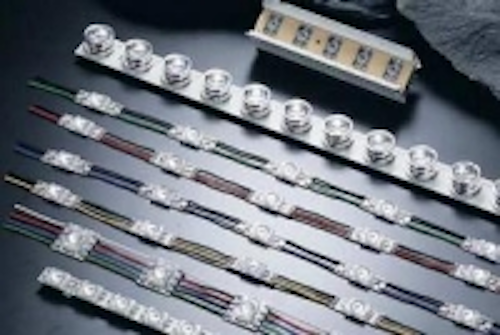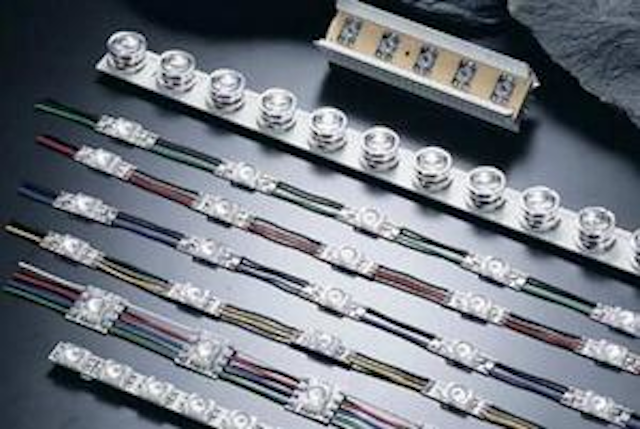 Date Announced: 06 Jun 2005
Para Light Corp., a world leader in providing LEDs to electronics OEMs, has introduced an enhanced-power LED light strip that incorporates red/green/blue (RGB) technology to create a white output.
The new EPLS-U1 series RGB-based LED light strips are especially ideal for outdoor applications because their color temperature range remains constant during extended usage, unlike phosphorus-based white LEDs that typically fade with continued exposure to sunlight.
Each LED in the E-power light strips contains one blue, one green and one red dice, which allows thousands of different color combinations and sequences to be generated in the same package. The LEDs come in 35-, 70-, 150- and 350-milliamp packages, yielding outputs of up to 500 lumens.
The light strips are available in wired, printed circuit board and aluminum board formats. Power input is 4, 5 or 12 volts, and the strips can be custom designed to fit the input voltage requirements of the customer's specific application.
Para Light's new EPLS-U1 family of RGB-based white E-power light strips is shipping now, with a delivery lead time of 5-6 weeks. Samples are available for qualified customers. More information – including pricing – can be obtained from Para Light Corp., 515 Spanish Lane, Walnut, Calif., 91789; telephone 909-468-4866 or, toll free, 877-377-7272; fax 909-468-4876; email sales@paralight.us; or on the Web at www.paralight.us.
Para Light is a major global provider of high-quality optoelectronic components and a pioneer in LED manufacturing. Founded in 1987 and headquartered in Taiwan, with North American offices in California, the company employs about 1,500 people, including a quality-control staff of 80 and a dedicated R&D staff of 50. Para Light maintains state-of-the-art facilities in both Taiwan and China; is ISO 9002, QS-9000 and TS 16949 certified; and continuously invests in the latest automated equipment to ensure the highest quality and to control the cost of its products.
Contact
Para Light Corp. 515 Spanish Lane, Walnut, CA 91789, USA telephone 909-468-4866 toll free, 877-377-7272 fax 909-468-4876 E-mail: sales@paralight.us
E-mail:rick@paralight.us
Web Site:http://www.paralight.us