BivarOpto introduces 3-watt, 90-lumen power LED module
Sep 2nd, 2005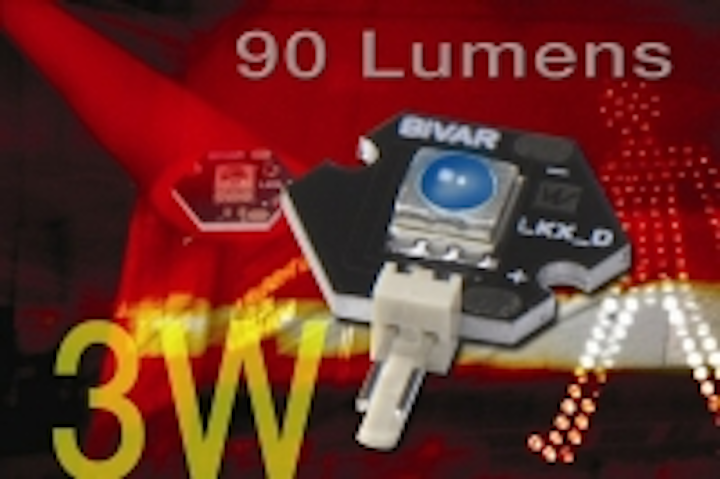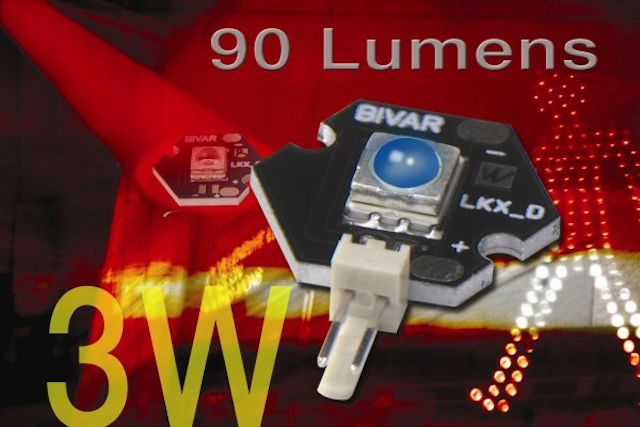 Date Announced: 02 Sep 2005
New 700mA Surface Mount Module Uses Metal Core Printed Circuit Board Assembly, Wavelength ranges from 465 to 8000Knm for Host of Specialty Lighting Applications
Irvine, CA, August 31, 2005 – Designed for emerging Solid State Lighting (SSL) uses, where ultra-bright illumination and a versatile color range is desired in a reflow solderable design optimized for proper thermal management, BivarOpto™, the Optoelectronics Division of Bivar, Inc., has introduced a new 3 Watt LED module. This new unit provides an excellent solution for uses in a wide range of lighting and backlighting applications, from portable lighting, flashlights and backlighting LCD computer monitors and television screens, to signaling, architectural, landscaping and entertainment/outdoor signage.
Based on the latest Cree® XLamp™ technology, Bivar's LK3 Series is provided in a compact ready to use module is packaged onto an metal core PCB (MCPCB) base, using standard reflow technologies to achieve electrical and thermal connections without epoxy. This enables the device to exhibit excellent thermal characteristics while also providing an electrically neutral thermal path. Capable of offering up to 130% more color gamut for greater color saturation while providing up to 90 lumens (lm) output, the module is self contained and is manufactured lead (Pb) free in compliance with WEEE and RoHS materials and process specifications to meet the growing global emphasis on environmental responsibility. Featured in the encased metal base housing with an integrated domed lens, the LK3 offers a robust design for operating temperatures from -40º to +85º C and can withstand ESD >2000V per Mil-Std-883D. Viewing angle is 100º, with full spectrum wavelengths available from 465nm to 635nm, and also in white to 8000K. Maximum If rating is 700mA. Lens appearance when off is transparent water clear.
Immediate uses of the new, higher intensity single chip LED-module include safety, signaling, emergency lighting and use in general lighting applications such as flashlights, household lighting and automotive forward lighting. The module is also ideal for general illumination such as downlighting, concentrated specialty lighting and large flat panel display backlighting. Medical, aerospace, security, and other applications requiring a bright, reliable light sources are also anticipated to find major uses for this innovative LED module. For ease of installation, the unit is available with Bivar's Field Connet™ two-pin header based connector system for simple snap-in, "plug n' play" wiring and replacements. Other accessory packaging will be offered for general illumination applications featuring an integral TIR lens for use as spots, floods or wash lighting.
Thomas Silber, Bivar President, stated, "The LK3 Series demonstrates a significant commitment to furthering our leading-edge product offerings that will create new markets for Bivar in this rapidly expanding market." He further stated, "Our goal is to continue introducing key display products with the same level of global support and product quality that has given us credible relationships with OEMs worldwide."
The LK3 LED Module is priced from $6.00 each in production quantities and is immediately available from stock. Custom assemblies designed to address customer specific lighting and illumination requirements are available (consult factory). For more information, contact Bivar, Inc. at 1-800-772-2377, or visit www.bivar.com.
About Bivar, Inc.
Bivar has established an industry-leading position in the electronic PCB assembly and hardware industry, providing low-cost solutions for problems associated with the assembly and manufacturing process. Founded in 1965, Bivar has continually developed unique designs for the installation of PCB-mounted devices and the packaging of PCBs in enclosures and systems. Bivar also operates "BivarAsia", with manufacturing and customer service facilities in the city of Dong Guang, in the People's Republic of China. Bivar's Optoelectronics Division, BivarOpto, features the world's largest selections of LED devices and assembly products, while the Bivar Enclosure and PCB Assembly Hardware Group provides an extensive selection of PCB packaging products and hardware for use in the manufacturing process. Bivar obtained ISO9000 certification in 1998 and ISO9001: 2000 Certification in June 2004.
Contact
Bivar, Inc. 4 Thomas, Irvine, CA 92618-2593 Tel: (949) 951-8808 Fax: (949) 951-3974
E-mail:Info@Bivar.com
Web Site:http://www.bivar.com