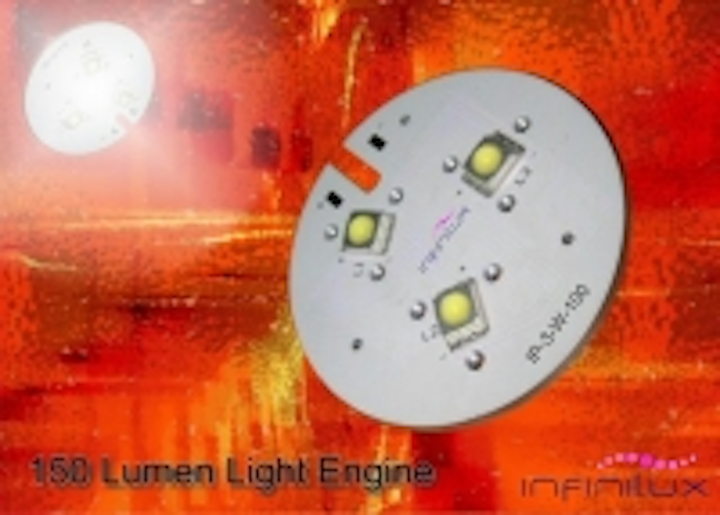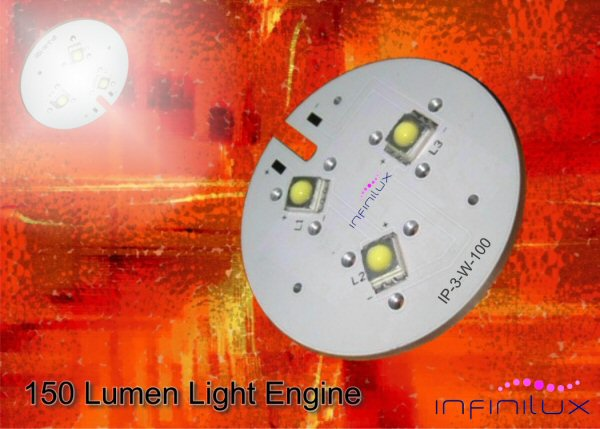 Date Announced: 29 Sep 2005
New 150 Lumen InfiniPower basic light engines allow designers to rapidly develop luminaries, fixtures, backlights and general illumination products and are RoHS and WEEE compliant ensuring worldwide compatibility.
Carson, CA, September 28, 2005 - Infinilux™, announces the introduction of the first in their series of proprietary InfiniPower light engines featuring 150 lumens output of white (6500K) light.
This 2.40" (61mm) diameter module was specifically designed to address the needs of designers worldwide that are currently in the product development phases or exploratory stages of solid-state lighting. These modules are based upon the industry leading Cree XLamp™ technology and incorporate a proprietary 0.157" (4mm) thick metal core printed circuit board (MCPCB), which allows for the control of thermal dissipation while providing an economical "plug and play" mounting methods.
The InfiniPower IP-3 Series operates on 10 VDC at 350ma and features a standard 100-degree viewing angle. Simple connection to a regulated power source via two solder pads is fast and economical accelerating the design cycle and increasing manufacturing throughput. No specialized epoxies, ovens or curing time is required as with other high-power LED modules. The IP-3 is 100% RoHS compliant.
The IP-3 series is also available with individual custom optics that provides collimated outputs and viewing angles of either 15-degrees or 30-degrees. Custom housings, lenses, optics and regulated power sources are available; please contact the factory for custom tailored designs.
The new module is ideally suited for general lighting, safety and security, automotive/recreational vehicle/marine cabin lighting and backlighting of signage, legends and displays. The InfiniPower IP3 module can be used as well in a host of application specific lighting projects at the consumer and OEM level.
Anthony Vilgiate, Infinilux Staff Research Consultant said, "The InfiniPower modules are revolutionary in not only breaking light output barriers but in reaching a price points previously un-heard of in the SSL Industry. The bar has been raised substantially and the affordability, cost per lumen and accessibility of these technologies will accelerate the pace of development for the whole lighting industry."
Vilgiate added, "Once the switch over to SSL gains momentum the energy savings we, as a country, will realize will make a real dent in the current energy crisis."
InfiniPower IP3 modules are immediately available from stock with standard pricing starting at under $25.00 per module.
About Infinilux, Inc.
Infinilux deigns and manufactures high performance lighting products that can be used worldwide in high-profile applications within the architectural, public spaces, theater lighting, retail, residential, landscape, signage, entertainment, hospitality, fine arts, and commercial markets.
The Infinilux product line includes a variety of high-output indoor and outdoor Solid State retrofit lamps to replace inefficient incandescent lamps as well as a wide range of color wash and accent LED-lighting strips. These strips are ideal for under cabinet lighting in both homes and recreational vehicles and are suitable for use as a light engine for standard lighting fixtures and displays.
Contact
Infinilux, Inc. 17902 Star of India Lane, Carson, CA 90746 USA Tel: (310) 555-9999 Fax: (310) 555-9999
E-mail:info@infinilux.com
Web Site:http://www.infinilux.com