Dominant introduces white LEDs with non-YAG phosphors
Sep 2nd, 2005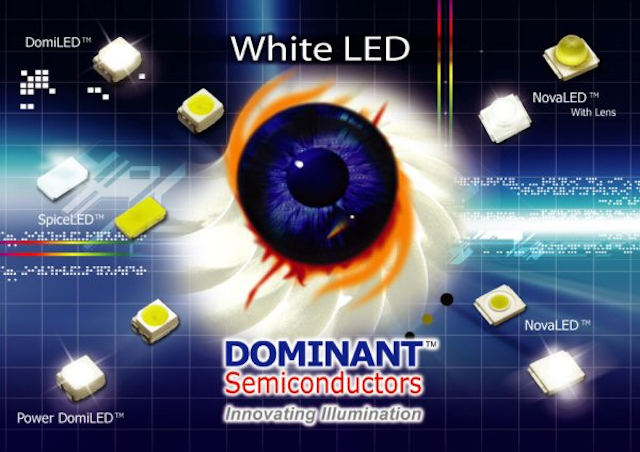 Date Announced: 02 Sep 2005
MELAKA, MALAYSIA – DOMINANT Semiconductors, LED manufacturer has announced the launch of new range of white LED product line, where vibrancy meets vision. With the intense colors that seem to grow with energy and its significant brightness, DOMINANT white LED is a highly reliable device.
With its extremely high luminance and exceptional durability thus will deliver superior performance in many different illumination applications and lead to the growth of LED market.
These new products are based on state-of-the-art material technology using non-YAG (yttrium aluminum garnet) phosphor.
In these new DOMINANT white LED, non-YAG phosphor is encapsulated with superior epoxy, which do not infringed any of the patent in the world. Due to its dynamic nature-durability, long life and low power consumption makes DOMINANT white LED perfect choice for general lighting, backlights in mobile phone display, mobile flash LED and car instrument panels.
These vibrant yet powerful devices are available in variety of packaging with a wider range of spectrum under CIE curve. Besides, this brand new line of white LED play important role to our strategy because it enabled us to offer our customers a complete range of LED solutions in order to continually exceed our customer increasing expectation.
About DOMINANT Semiconductors
DOMINANT Semiconductors is a dynamic Malaysian Corporation that is among the worlds leading SMT LED Manufacturers. An excellence – driven organization, it offers a comprehensive product range for diverse industries and applications. Featuring an internationally certified quality assurance acclaim, DOMINANT's extra bright LEDs are perfectly suited for various lighting applications in the automotive, consumer and communications as well as industrial sectors. With extensive industry experience and relentless pursuit of innovation, DOMINANT's state-of-art manufacturing, research and testing capabilities have become a trusted and reliable brand across the globe. More information about DOMINANT Semiconductors can be found on the Internet at http://www.dominant-semi.com.
DOMINANT is a QS 9000 and ISO9001 certified company.
Contact
Marketing Communication Tee Mei Ghee Tel: +60 (06) 2833566 (Ext: 2117) Fax: +60 (06) 2830566
E-mail:mei-ghee.tee@dominant-semi.com
Web Site:http://www.dominant-semi.com