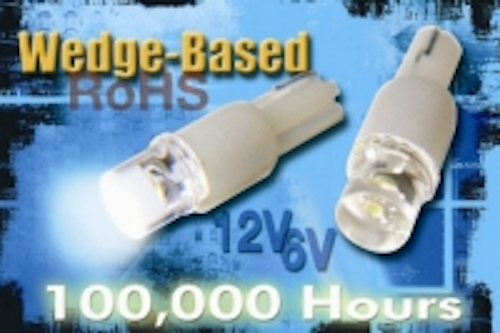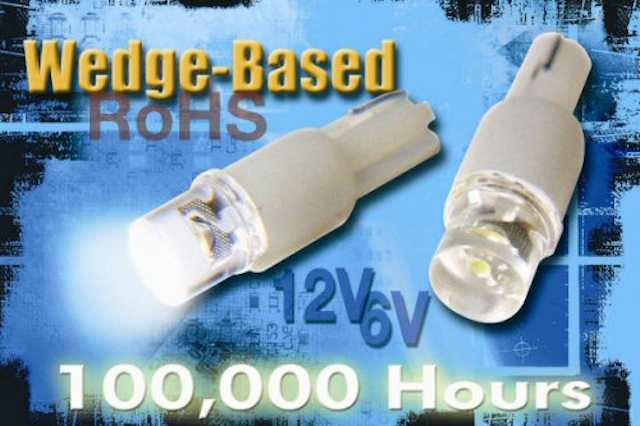 Date Announced: 07 Sep 2005
TTL and CMOS Compatibility, Internal Resistors Create Reliable Light Source, Manufactured Pb-Free per RoHS materials and processes
Chino, CA. Featuring service life of 100,000 hours and excellent reliability, American Bright Optoelectronics introduces a new Series of Wedge-Based LEDs featuring similar color output as industry standard white T-1/34 (5mm) wedge-based incandescent bulbs.
Ideal for use on circuit boards, computers and peripherals, the wedge-based LEDs are also finding use in the gaming industry as replacements for incandescants in such areas as 'bet' and 'credit' illuminated buttons on slot machines. These miniature, wedge-based LEDs are rugged in design and offered in Bin control lots with intensities ranging from 240 to 1230mcd.
The new Wedge-Based unit is TTL and CMOS compatible, excellent for both DC and pulse operations. An internal resistor is provided in two grades at either 130 ohm [ (Model BL-C38E-A) or 430 ohm [ (Model BL-C38E-B), including current-limiting resistors for 6 and 12 volts respectively. InGaN chip materials create a rugged, reliable design with operating temperatures rated at -40 deg.C to 80 deg.C.
Power dissipation (Pd) is rated at 120mW, with peak forward currents (IFP) rated at 150mA. Viewing angle is 85º. Emitted color is white. Appearance is water clear when off. All configurations are manufactured in compliance with Pb Free (RoHS) materials and processes.
It is rated at an operating life of 100,000 hours, establishing a credential for cost-saving replacement of its incandescent counterparts. The plug-compatible wedge-based unit is compactly packaged with overall dimensions of only 0.739' (18.8mm) high x 0.228'(5.8mm) diameter, provided with a flush surfaced lens for smooth panel installation.
'We anticipate this highly reliable unit to serve as a very effective replacement product in the broad incandescent-based market, particularly in the computer and gaming market, and as a viable alternative in the automotive display market', stated George Lee, President.
Wedge-Based LEDs are priced from $0.50 each for production quantities.
Contact
American Bright Optoelectronics Corporation 13815-C Magnolia Ave., Chino, CA 91710. Tel: (909) 628-5050, (888) 533-0800 Fax: (909) 628-5006
E-mail:info@americanbrightled.com
Web Site:http://www.americanbrightled.com