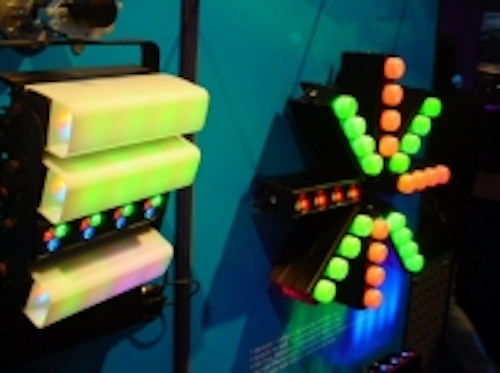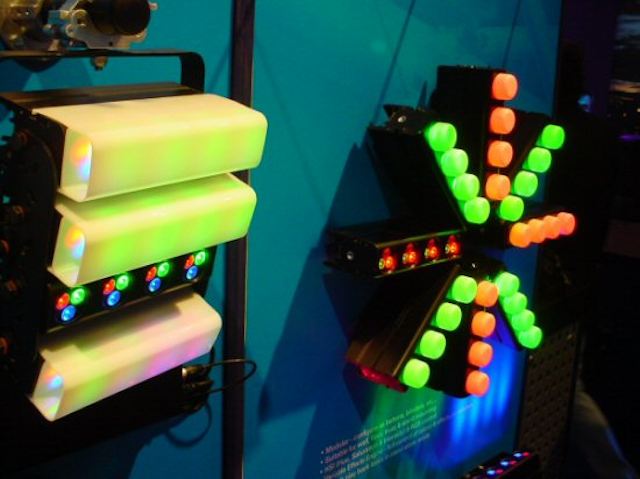 Date Announced: 19 Sep 2005
A.C. Lighting has unveiled a new range of lens optics accessories for Chroma-Q™'s Color Block DB4 LED fixture.
Chroma-Q™ Color Block Optics Range
Chroma-Q™ has expanded the Color Block DB4 accessories range to include a choice of 6 beam angle and light diffusion effects accessories.
The retro-fittable accessories are part of a continuing investment in the Color Block DB4 to give new and existing customers the widest possible choice of fixing and optics solutions. The result is a single, multipurpose LED fixture which provides increasingly more creative and rental possibilities.
LED Pipe
- The rectangular, contoured LED Pipe (photo, left) is manufactured using an ultra durable Polycarbonate material which has been designed to withstand the rigours of the entertainment environment.
The pipe slots easily over the front of each DB4's set of four LED cells and locks into recesses in the unit for a secure fixing, taking just seconds to attach or detach.
Acting as a light diffuser, the pipe blends together the output from individual RGB cells and shows it as a uniform colour across the display area. As a result. camera lens flare is also eliminated when the DB4 is used in TV studio lighting applications.
For improved diffusion, the pipe moulding features a second 'outer' layer which acts as an additional filter. The result is optimum diffusion with maximum light transmission for vibrant colour washes along all surfaces of the diffuser.
The LED Pipe comes in two lengths – 1300mm to fit a 5-way batten and 250mm to fit individual DB4 units, but can also be cut into custom lengths to fit individual RGB cells or other batten configurations. Both pipe options have been designed with overhang each end of the DB4 unit/s to enable the fixtures to butt up to each other seamlessly when configured in a line.
Pixel Cap
- The pixel cap accessory (photo, right) consists of 4 caps ready-fitted to a face panel manufactured from lightweight aircraft aluminium, which clips over the front of a DB4 unit. The caps then slot into the RGB cells, locking the front panel in place and preventing light spill.
The face panel gives users maximum versatility in designing different lighting looks as it can be fitted or removed from the DB4 in just seconds. The pixel caps can also be detached from the face panel in order to create a combination of looks.
Once fitted, the caps blend together the RGB from each cell to show only the resulting colour, and because the light output is diffused, camera lens flare is eliminated.
High Efficiency Lens Film Beam Kits
- The range of 4 high efficiency lens film beam kits allow the lighting designer to get more flexibility out of the Color Block by providing a wide choice of beam angles.
The 0.015" Polycarbonate holographic film is a non-wavelength dependent, fully randomised surface structure that eliminates Moire and colour diffraction.
The film is available in a choice of 20°, 30°, 60° x 10° and 30° x 5° beam angles, and slides easily into the front accessory slot of a DB4. Further beam angles will be added to the range in future.
Color Block 30-Way Power Supply Unit
The new 30-way PSU is a convenient and cost-effective solution for controlling large Color Block systems – providing power and effects for up to six times as many units as the standard PSU. With its powerful built-in programming features, it's also ideal for using as a stand alone unit. The PSU comes with pre-programmed looks and users can store up to 42 custom looks on board. Sixty-four time triggers also make it easy to program real time effects from smooth colour cross fades to attractive chases.
A.C. Lighting is the worldwide distributor for the Chroma-Q™ Color Block.
Contact
International Sales Enquiries: A.C. Lighting Ltd. Tel. +44 (0)1494 446000 North American Sales Enquiries: tel. +1 (416) 255 9494 email: northamerica@aclighting.com
E-mail:sales@aclighting.com
Web Site:http://www.aclighting.com