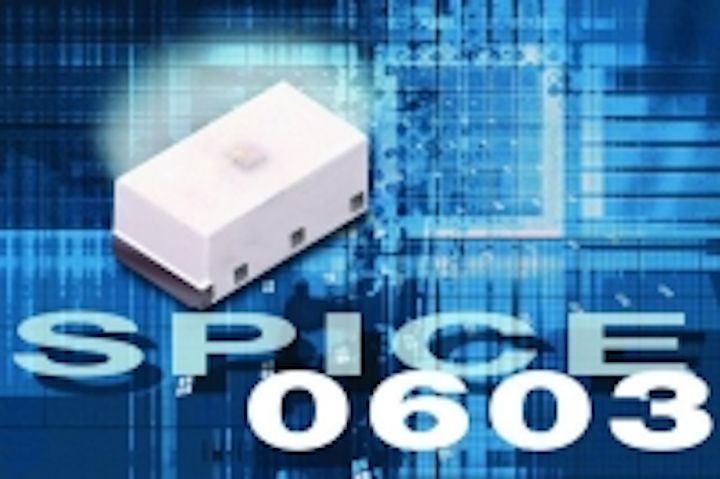 Date Announced: 16 Nov 2005
Chino, CA. American Bright announces availability of their new Spice 0603 compatible LED package, designed to provide improved reliability and thermal management for demanding applications where printed circuit board (PCB) assembly and reflow soldering procedures have typically placed mechanical and thermal stress on conventional formed lead frames.
The new package provides an excellent solution for use in backlighted keypads, indicator and backlighting for office equipment, audio/visual systems, and battery-powered devices, displays for mobile phones, and small consumer and portable appliances.
The new, BL-SDX Series features a new housing design with integrally encapsulated, cast solder pads vs. formed leads, using a CuAlloy with NiPdAu plating. The housing is made from hi-temperature Epoxy Resin, also forming the lens as an integral element. These properties contribute to resolving typical heat and stress issues that threaten the performance and life of the LED.
Units are offered in white, bright blue and all industry-standard LED colors, with a wide 160º viewing angle. Units feature intensities of 18 and 71.5mcd (lv) for blue and white LED colors respectively (tested at 5mA). Forward DC current is rated at 20mA. These units also exhibit an ESD (electro-static discharge) threshold (HBM) of 1000 volts, and are capable of power dissipation of 72mW at room temperature.
The BL-SD Series units are rated for operating temperatures of -40ºC to +100ºC. All configurations are manufactured in compliance with Pb Free (RoHS) materials and processes. Units are also available under BIN control processes.
"The BL-SD Series represents great capabilities to control reliability and simplified packaging, where high power and small scale designs are being considered for future products", stated George Lee, President. He further stated, "This design is the first of ultra-miniature LED SMT chip devices using such improved thermal management properties and design."
BL-SD units are priced from $0.20 each for production quantities.
Contact
American Bright Optoelectronics Corporation 13815-C Magnolia Ave. Chino, CA 91710 Tel: (909) 628-5050 Fax: (909) 628-5006
E-mail:info@americanbrightled.com
Web Site:http://www.americanbrightled.com