AlbEO introduces white-LED lighting system with occupancy sensor
Nov 22nd, 2005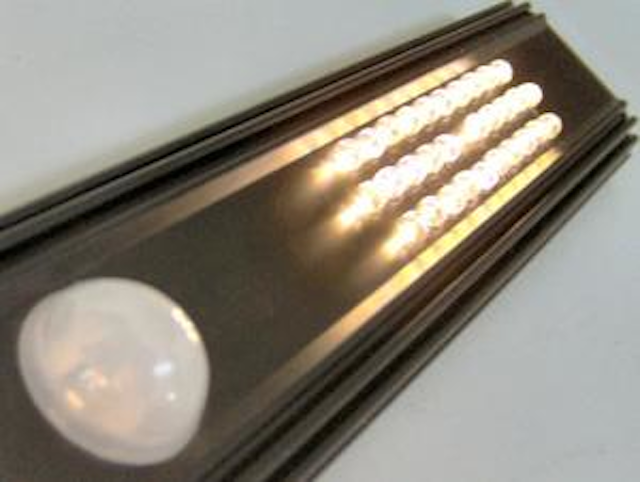 Date Announced: 22 Nov 2005
BOULDER, CO -- AlbEO Technologies Inc. takes solid-state lighting to the next level in energy savings by integrating a miniature occupancy sensor into its successful Talea™ white-LED light, creating a highly efficient, easy-to-install fixture for residential, commercial, and industrial applications.
By greatly reducing energy consumption, and eliminating bulb replacement costs, the Talea-PIR™ can save consumers $1,000s while providing a unique and aesthetic lighting solution. AlbEO's Talea-PIR can be used in most applications throughout the home to satisfy California's new 2005 Title 24 energy code, giving consumers an alternative choice to fluorescence.
"AlbEO will continue to take the lead in applying LED technologies to applications that make the most sense. We expect that the passive infrared (PIR) occupancy sensor option on the Talea-PIR™ will fill a growing need for Title 24 lighting products in California. The Talea-PIR SSL combines high efficacy white-LED technology with an occupancy sensor to maximize energy savings," said Peter Van Laanen, CTO of AlbEO.
"This is noteworthy because most high efficacy lighting technologies, such as fluorescence, suffer shortened lifetimes when controlled by motion sensors while LED lifetimes are not effected by switching."
White-LED solid-state technologies are rapidly changing the world of lighting by offering innovative products that fundamentally change the nature of lighting. These benefits include:
-- LEDs eliminate maintenance costs: LEDs require 10 to 100 times LESS maintenance than other lights
-- LEDs greatly reduce thermal loads: LEDs run 10 to 20 times cooler than other lights
-- LEDs last for 50,000 to 100,000 hours: LEDs last 10 to 100 times longer than other lights
-- LEDs are highly resistant to shock and vibration: LEDs have no glass or filaments to break
-- LEDs are extremely safe: LEDs run on low voltage, no EMI, low temperature
-- LEDs eliminate recycling costs: LEDs do not contain mercury and are NOT considered hazardous waste unlike fluorescent bulbs
-- LEDs provide full scale control of light levels: LEDs are continuously adjustable from off to full on
-- LEDs offer the smallest form factors: Thinnest lights available
Even without Title 24, the new Talea-PIR makes an excellent light fixture for many locations by eliminating the need to install a switch.
Available with 60 or 120 LEDs at 3000K and a beam spread of WFL55 or at 5000K CCT with beam spreads of NSP15, NFL30, and WFL55, the Talea-PIR is a lighting system that can be used just about anywhere and provide the user with the immediate benefits of LED lighting.
With this new addition, the Talea SSL product line is now available in standard, waterproof, and occupancy sensor enhanced versions delivering a wide range of lighting solutions for every consumer.
About AlbEO Technologies
Located in Boulder Colorado, AlbEO combines over 40 years of electro-optic system design, supply chain management, and product development to deliver user-friendly, highly reliable LED lighting products for residential, commercial, and industrial applications.
Contact
Jeff Bisberg AlbEO Technologies Inc. 1840 Commerce St. Boulder, CO 80301 Phone: 720-227-9419 Mobile: 303-921-1619 FAX: 303-284-0785
E-mail:support@albeotech.com
Web Site:http://www.albeotech.com