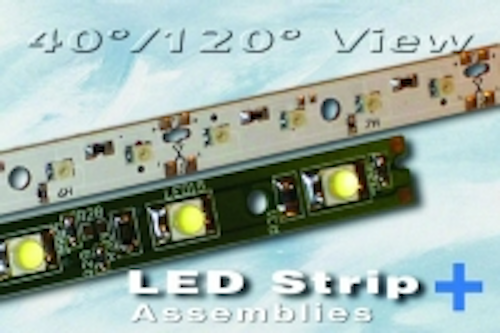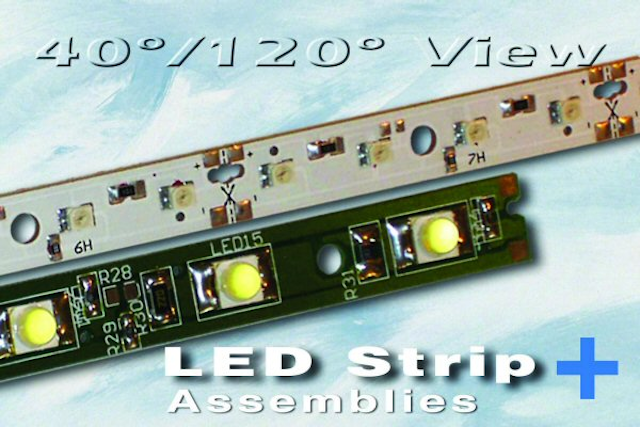 Date Announced: 22 Nov 2005
-- High-Intensity White & Color PLCC units on PCB strips create plug n' play readiness or modifiable to custom circuitry needs; units are manufactured Pb-Free (RoHS) compliant
Chino, CA, November 17, 2005 - American Bright Optoelectronics has announced a new family of LED-based Light Strip assemblies provided with three styles of surface-mounted, dome or flat-lens PLCC LED devices assembled onto narrow PCB strips, offering excellent versatility for use in a variety of lighting displays, including architectural lighting, interior design venues and directional floor and passage lighting, or special lighting in medical equipment such as scanners.
The new ABP Series presents an easily configurable standard or customer-specific platform to answer unique requirements for lighting and display applications where special functionality or other circuitry may be desired on the lighting strip itself. In addition, this alternative to incandescant lighting arrays or other larger lighting techniques, offers lower operating temperature and heat from lamps, and will operate with lower power consumption.
Two distinct styles are offered in either 16- or 32-unit in-line PCB strip lengths of 17-5/8" (449mm) x 7/16" (12mm) and 3/8" (10mm) widths x 1/16" (1.6mm) PCB thickness. LEDs are mounted on 1-1/10" (28mm) or 9/16"(14.3mm) centers respectively.
On 16-unit strips, American Bright SuperNova™ domed or flat lens PLCC LEDs are supplied, offered in both standard colors and white. These devices measure 6 x 6 x 4.8mm height, including the domed lens. On 32-unit strips, standard flat lens PLCC LED devices measure only 3.2 x 2.8 x 1.85mm in height, and are available in both single and tri-color, including RGB.
For special customer requirements, passive devices such as resistors, capacitors or diodes and additional circuitry can be added to assemblies to meet specific application requirements, offering unique design options and functions to be accomplished by these assemblies.
"These Light Strips demonstrate the true versatility to join high quality light in-line displays with unique customer requirements, enabling significant cost-savings and added functionality", stated George Lee, President. "Several core customers have expressed great interest in our special LED packaging and designs working from modified or custom designs on PCB-based assemblies."
Standard LED strips are provided with soldered lead wire (red-black), or can be supplied with customer-specified harness/connector interfaces providing a "plug-n-play" unit for replacement and lower installation cost. Forward voltages (VF) of slotted types are rated at 12V maximum (Ta=25ºC), or 10V for 32-LED strip assemblies, power dissipation (PD) is rated at 10.6W (White LED at 110mA), forward current (IF) 110mA. Device viewing angles are 40º (16-LED assemblies) and 120º (32-LED assemblies). An in-circuit resistor is provided for every 2 LED devices. Operating temperature range is -40ºC to +100ºC.
16-unit ABP Series Light Strips are priced from $16.00 each ($8.00 for 32-LED Strip) in production quantities. For modified or custom packaging or assembly requirements, contact the factory. All configurations are manufactured in compliance with Pb Free (RoHS) materials and processes.
About American Bright Optoelectronics
American Bright Optoelectronics is a subsidiary of Taiwan-based Bright LED Electronics Corporation, a recognized leader in the research, engineering, manufacturing and marketing of LED components to major markets worldwide. Formed as the marketing organization for the "Americas" and Canada in 1995, American Bright has enjoyed sustained growth while introducing several new product innovations to a wide variety of markets. Conscious of their global responsibility to the environment, the majority of products are produced with PB-Free, RoHS compliant materials and processes. Bright LED Electronics and American Bright Optoelectronics is ISO9001:2000 and ISO 14000: 2004 Certified.
Contact
American Bright Optoelectronics Corporation 13815-C Magnolia Ave., Chino, CA 91710 Tel: (909) 628-5050 Fax: (909) 628-5006 Toll Free (888) 533-0800
E-mail:stevenc@americanbrightled.com
Web Site:http://www.americanbrightled.com.