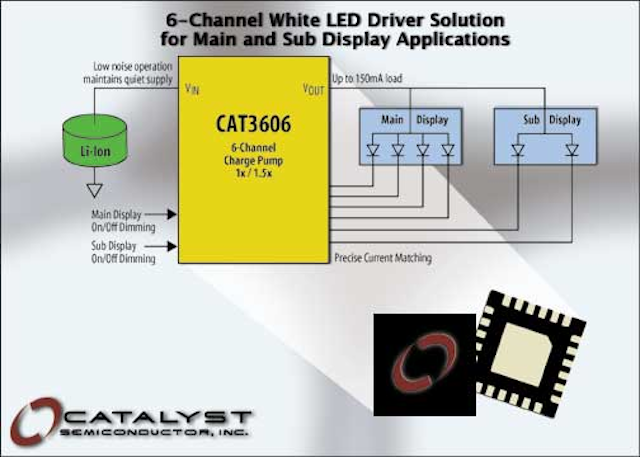 Date Announced: 24 Jan 2005
Catalyst Semiconductor, Inc. (NASDAQ:CATS) a leading supplier of high performance analog/mixed-signal solutions and nonvolatile memory, today expanded its family of solid-state illumination products with a new high efficiency white LED driver. The CAT3606 regulated charge pump is designed to deliver uniform, flicker-free backlighting for large panel and dual LCD display systems.
Flexible Ease of Use
The CAT3606 simplifies system design by replacing inductor boost circuits that have traditionally been used where high brightness backlighting is required. Due to its high output current capability, the CAT3606 can also be used to drive a main plus sub cell phone display, or a main display plus low power camera flash.
Independent control of each LED bank enables PWM dimming and standby mode of the 4 LED main and 2 LED sub displays. To reduce battery drain, the device also features a complete system shutdown enable where less than
1 µA is consumed.
A flexible digital interface is added for use with a variety of brightness control circuits. The low noise, 1MHz fixed frequency control scheme enables the use of small external capacitors, reducing cost and board layout.
Optimized for use with lithium ion battery systems, the CAT3606 maximizes power transfer by achieving very high efficiencies of up to 90%. Each output channel is current regulated to provide precise matching of up to 6 LEDs, guaranteeing even brightness control across the panel.
A unique fractional charge pump topology ensures flicker-free LED current over the life of the battery by automatically switching from 1x LDO mode to 1.5x boost mode.
The combination of the CAT3606's high efficiency, low noise, and dual display control make it the ideal white LED driver for cell phones, smart phones, PDAs and digital cameras.
"Power management continues to be a challenge for system designers as more features are integrated into today's portable devices. The CAT3606 white LED driver leverages our expertise in mobile imaging system power management, to supply flicker-free regulation with maximum power transfer," said Jamie White, Senior Technical Marketing Manager.
CAT3606 Applications
Battery powered LED backlighting for LCD displays
- Cell phone Main and Sub displays
- PDAs and handheld computers
- Portable navigation
- Digital cameras and camcorders
Product Features
• Independent dimming and standby control for Main and Sub displays
• Automatically switches from 1x LDO mode to 1.5x boost mode
• Inductor-less design minimizes EMI interference
• Drives up to 6 parallel LEDs at 30mA per channel
• Very low input ripple and noise
• "Zero" shutdown current extends battery life
• Short circuit detect/disable on all channels
• Optimized for use with Lithium Ion battery systems
Price and Green Package Availability
The CAT3606 is available in a space-saving 4mm x 4mm 16-lead thin QFN package with a maximum height of 0.8mm; price in 1,000 piece quantities is $1.48. The CAT3606 is available in environment friendly "green" packages that are halogen and lead free with full ROHS compliance. Evaluation kits, samples, and production quantities are available now.
Contact
Jamie White Senior Technical Marketing Manager Catalyst Semiconductor Sunnyvale, California Telephone: +1 408-542-1092 Fax: +1 408-542-1200
E-mail:jamie.white@catsemi.com