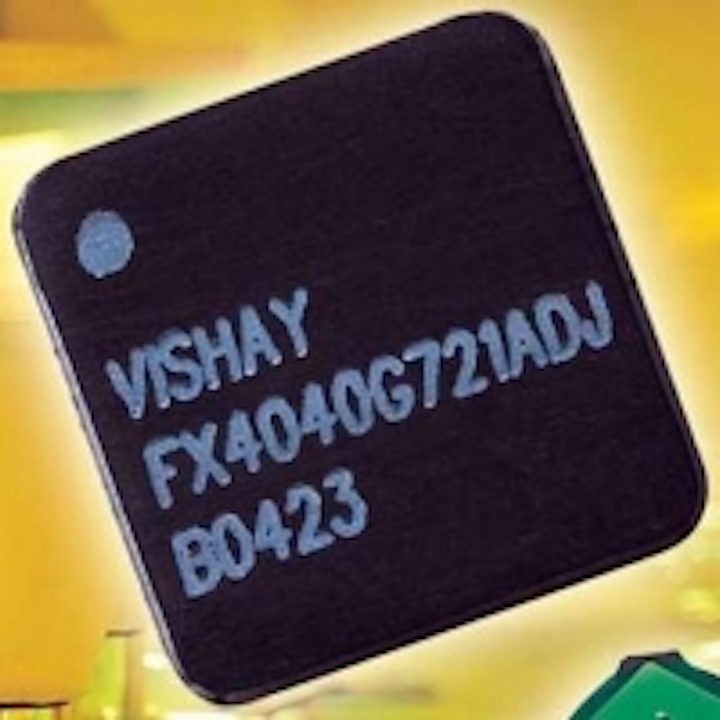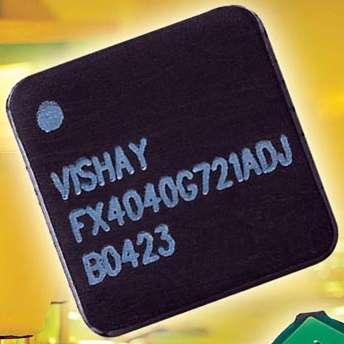 Date Announced: 19 Jan 2005
Vishay Intertechnology, Inc. (NYSE: VSH) today announced the release of a fully integrated universal constant-current control one- and two-channel LED driver that is the smallest complete such solution to include all necessary components in a single package.
Optimized to provide high efficiency in driving power LEDs in a broad range of lighting applications, the compact FunctionPAK® FX4040G7xx delivers adjustable current control from 0 A to 2.0 A at fixed power supplies up to 35 V.
The new driver features 170-W/in.3 power density in an exceptionally small 0.40-in. by 0.40-in. [10-mm by 10-mm] package with a low 0.11-in. [2.8-mm] profile. The driver's nine-port BGA package is rated for a full industrial temperature range of -40 °C to +85 °C, enabling the device to satisfy stringent ambient temperature requirements.
The FX4040G7xx drives power LEDs rated for up to 2.0 A when connected with a low-voltage source such as a battery, and it ensures the full load life of the LED without exceeding the applicable LED voltage.
The driver's two totally independent channels, each of which features output power of 60 W and maximum current of 2.0 A, allow two LED lines to be controlled by one module.
The new current-control driver provides designers with the flexibility to utilize various battery configurations and chemistries (NiCd, NiMH, or Li+) and fixed power supplies with input voltage ratings of up to 35 V. External resistors may be used to adjust the constant output current to various LED configurations.
The FX4040G7xx integrated universal current-control driver serves as a ready-to-use LED driver solution for use in end products including bike lamps, headlamps, flashlights, medical instrumentation, general and emergency alarm lighting, design and architectural lighting, interior and runway lights, outdoor accent lighting, household appliances, and other systems requiring an extremely small design.
Because no external components are required, the engineering, testing, and assembly processes are simplified significantly compared to competing solutions built with discrete components. As a result, both production costs and time to market are reduced dramatically.
Samples of the new FunctionPAK constant-current control driver are available now, with lead times of eight weeks for production quantities.
FunctionPAK is a registered trademark of Vishay Intertechnology, Inc
Contact
Marketing: Andrew Post Global Communications Manager Tel. +1 610-251-5287 Fax: +1 610-889-9429
E-mail:Andrew.post@vishay.com
Web Site:http://www.vishay.com