Maxim unveils high-voltage 350mA adjustable HB-LED driver
Aug 19th, 2005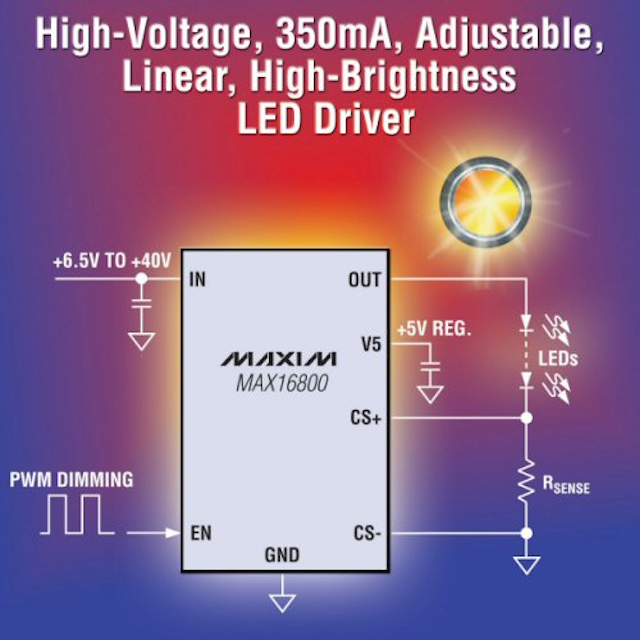 Date Announced: 19 Aug 2005
High-Voltage, 350mA, Adjustable, High-Brightness LED Driver for Automotive, Commercial, and Industrial Lighting Applications
SUNNYVALE, CA - Maxim Integrated Products (NASDAQ: MXIM) introduces the MAX16800, adjustable linear current regulator that can provide up to 350mA of current to one or more strings of high-brightness LEDs (HB LEDs). A wide operating input-voltage range of 6.5V to 40V both makes the MAX16800 ideal for automotive, commercial, and industrial applications, and helps protect against large transients like those found in load-dump and cold cranking situations.
The MAX16800 combines an accurate current-sense reference with differential LED current sensing to provide load accuracy of ± 3.5%. This current accuracy allows consistent brightness for all light assemblies. Also, the device's low-dropout pass element (0.5V typical) and low-voltage (204mV) current-sense reference minimize power dissipation in the system.
PWM, pulsed-current dimming at the output is possible by pulsing the Enable input (EN) or by pulsing Vin. Wave-shaped circuitry generates soft-edges on pulse loads and reduces EMI during PWM dimming.
A fixed 5V output regulator delivers up to 4mA of load current for low-power applications throughout the 6.5V to 40V input-voltage range. The on-board 5V regulator can power a microcontroller or other external components. Two small ceramic capacitors and a small sense resistor keep footprints very compact while minimizing cost.
The MAX16800 is rated for operation over the automotive temperature range (-40 degrees Celsius to +125 degrees Celsius). It features thermal and output short-circuit protection. The device is available in a thermally enhanced, surface-mount, 5mm x 5mm, 16-pin TQFN package rated at 2.6W power dissipation. It is also available in a lead-free package. Prices start at $0.99 (1000-up, FOB USA).
Contact
Customer Service 1-800-998-8800
E-mail:Brian_Hedayati@maximhq.com
Web Site:http://www.maxim-ic.com