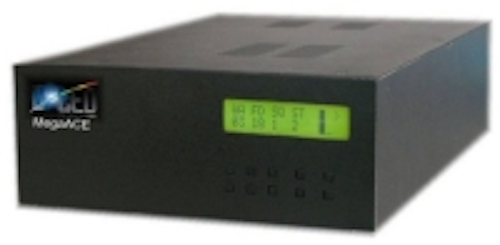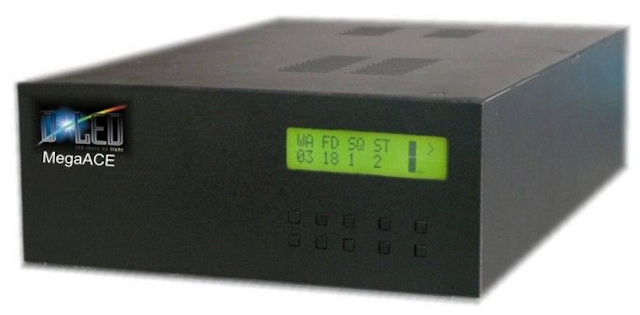 Date Announced: 08 Mar 2005
Danor Theatre and Studio Systems is producing innovative LED controllers and drivers for the professional LED lighting market under its new division name of D-LED. All of D-LED's LED controllers are solid state built, easy to operate; DMX-512 enabled, CE approved and fit to all LED ranges made today (5mm, 4PIN, SMD, 300mA and 700mA).
All of D-LED's products are made at our facilities in Hod-Hasharon Israel.
MegaACE product overview
MegaACE – by D-LED's, is the latest innovation in high-power LED control for 1 & 3w (350-700mA) based LEDs.
MegaACE is equipped with a four mode manual/Stand-Alone/DMX-512/master-slave) six RGB outputs - 18 channels LED controller.
This unit is controlled via a dedicated on-board LCD panel with 10 operation buttons or via any DMX-512 lighting controller. The four operation modes are: manual activation (assignment of different values to the R-G-B channels) and Chaser activation (option to create 3 separate chaser sequences each combined with up to 50 steps) and DMX-512 mode where 18 channels can be controlled via any DMX lighting controller and MASTER/SLAVE mode that allows MegaACE to be controlled by a Master MegaACE unit while the other units connected, respond to the Master's data transmissions.
MegaACE is supplied with an internal 24v – 300w power supply.
MegaACE is the ideal solution for multi control over Luxeon based LED products.
Contact
Niv Sadeh Danor Theatre and Studio Systems Tel: +972 9 7444222 Fax: +972 9 7466466
E-mail:sales@danor.com
Web Site:http://www.danor.com/dled/