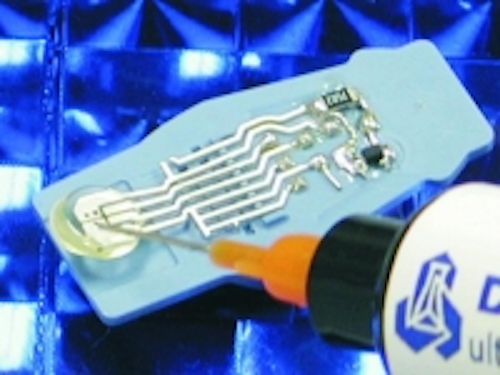 Date Announced: 08 Mar 2005
Four acrylate encapsulating resins, designed for brighter chip-on-board LED assemblies, are featured in the selector guide from DYMAX.
When cured with a DYMAX 2000-EC moderate intensity flood curing system, Light-Cap™ 9614, 9615, 9616 and 9617 offer superior optical transmission during the life of the assembly. Their resistance to elevated operating temperatures results in reduced yellowing over the life of the LED compared to traditional encapsulating resins.
Tests illustrating resistance to heat aging and yellowing over time are shown in the selector guide, along with product properties and applications where the resins would most likely be used.
Fast UV cures in 30 to 45 seconds, with the DYMAX 2000-EC curing system, eliminate bottlenecks. This cost effective curing system is available in multiple configurations and can be utilized with conveyorized or rotary indexing production lines. A number of curing chamber models is available to accommodate basic to sophisticated assembly requirements.
Besides curing completely in only a few seconds, these UV/visible light curing coatings offer a wide range of high performance properties including lower stress and more durable wire bonds, superior adhesion, multiple viscosities, minimal shrinkage and low outgasssing. Other characteristics described include good moisture resistance, optical clarity and excellent environmental resistance.
DYMAX Light-Cap™ coatings and encapsulants form strong, solvent-free bonds to an expanded array of plastic and other substrates including UV absorbing clear or tinted grades of glass and plastics and semi-transparent materials such as FR-4 circuit boards and white ceramics.
A variety of UV/visible curing options for the adhesives are pictured on the bulletin including flood lamps and lamps mounted over conveyors. Deeper, faster cures occur upon exposure to wavelengths from 300-500 nanometers. The resins contain cure mechanisms more sensitive to the spectral output of both visible and UV curing wavelengths, resulting in deeper, faster cures.
Contact
Dymax Europe GmbH Trakehner Str. 3 60487 Frankfurt Tel. +49 (0)69 71 65 3568 Fax +49 (0)69 71 65 3580 Contact Technical Service: Stefan Kwetkat
E-mail:dymaxinfo@dymax.de
Web Site:http://www.dymax.de