Edison Opto announces 40W, 1200 lumen Edi-Power
Mar 31st, 2005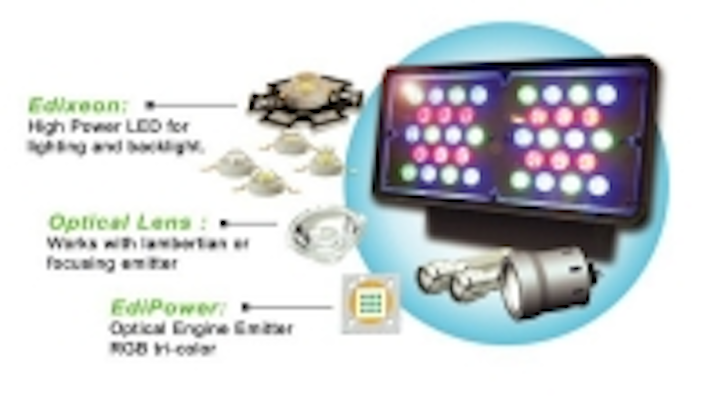 Date Announced: 31 Mar 2005
Edison Opto Corp., a Taiwan based LED package manufacturer, announces two series of Ultra High-Bright LEDs as a new lighting engine for solid-state lighting.
Edison Opto Corp is available to provide a total solution for solid-state lighting for both lighting components and lighting modules.
In 2004, Edison Opto successfully developed the Edixeon series which contained 1W and 3W LEDs. The 1W Edixeon can reach 60 lm easily and is available in varied colors and emitting angles from 60 degree to 160 degree. With the different collimators available, Edixeon can emit an even or concentrated light.
Edi-Power, an Ultra High-Bright LED is ready from 5W to 40W with monochrome or RGB output. Edi-Power is designed for the high brightness requirement.
The 1200-lumen output of the 40W Edi-Power is favorable for general illumination, and its small dimension allows it to be compatible with any kind of lighting application.
Edison Opto is an ISO9002 and soon ISO14001 certified company.
Contact
Kev Chang Edison Opto Corporation Tel: 886-2-8227-6996 ext 192 Fax: 886-2-8227-6997 Add: 4F,No.800, Chung-Cheng Rd., Chung-Ho City, Taipei, Taiwan, R.O.C
E-mail:service@edison-opto.com.tw
Web Site:http://www.edison-opto.com.tw