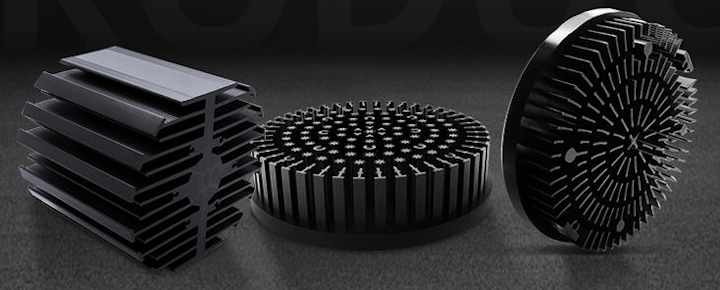 Boca Raton, FL: JARO Thermal proudly announces the new PinFIN (JX) series of LED (Heatsink) Coolers, which are specifically designed to meet the power requirements of LED down lights, spotlights and high-bay lights (from 45-225mm in diameter).
Features VS Benefits:
* Mechanical compatibility with direct mounting of the SMD products to the LED cooler & thermal performance matching the lumen packages.
* For flood light,street light & high bay designs from 6,000 to 15,000 lumen.
* Thermal resistance range Rth 0.42°C/W.
* Forged from highly conductive aluminium for optimal thermal performance (AL1070), aluminium 1070 thermal conductivity is 2.0 times higher than ADC12.
All PINLED products are resistant to salt water, weak acid, grease, alcohol, oil and common solvency. Along with a waterproof (IP certified) lens, the new PINLED is specifically designed to work with outside connecting lines. The cleverly designed claws and seals hold cables firmly, while offering a greater range of width.
Contact:
JARO Thermal, Inc.
Phone: 561-241-6700

Email:
Web site: