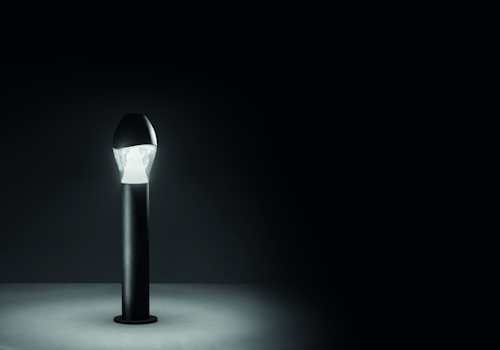 Landa Illuminotecnica, a company from Brescia founded in 1987 and specialised in outdoor lighting, gives life to aesthetic concepts through light. Thus, three-dimensionality is declined in Neway, a floor luminaire with a minimal flavour. Performance up to expectations and a wide range of finishes and heights of the product eliminate any obstacle to the imagination of outdoor lighting designers.
The scenographies of the external areas become settings wrapped in light, where it resurfaces in sometimes surprising ways, enhancing the environment. The design of Neway fits perfectly into lighting projects, evoking elegance and distributing light uniformly. 
The bollard, with a EN-47100 die-cast aluminium and EN AW6060 extruded aluminium body and an extra-clear polycarbonate screen, has 10W power (A++ energy efficiency) and a 220-240 Vac power supply with 50-60 Hz. The colour temperature of the LED source is available with 3000 K and 4000 K, while it emits a diffused luminous beam. The lighting product is made perfect for outdoor thanks to a high degree of protection - IP65, that protects the device from water splashes and dust infiltration, - and an IK08, which protects it from damage from foreign objects (up to 5 Joules).
Not only high efficiency: it's the concept of beauty to guide any creation by Landa. The presence of Neway, with a surprising yet never invasive impact, is characterized by a clean and well-finished aesthetic. The powder-coated bollard suits various interpretations of style thanks to the three colour options: graphite, light grey and oxide. Similarly, the height of the luminaire can also vary between 35, 45, 75, 100 and 125 cm, to satisfy any design need. The transparent glass, that covers the luminous source, lightens the bollard, breaking its geometric design and giving volume to the upper part of the pole.
Neway, like all the luminaires in the Landa range, has been developed applying specific anti-oxidation treatments: a procedure that cushions maintenance operations. In this way, the high resistance to atmospheric agents and traumas due to bad weather and external conditions makes Neway a perfect ally for the design of outdoor lighting.
Performance, aesthetics and Made in Italy quality: Landa Illuminotecnica is all this. With Neway, Landa explores the dimension of three-dimensional aesthetics and product customization thanks to its unique know-how and a cutting-edge expertise.
Contact:
Landa Illuminotecnica
Email:
Web site: