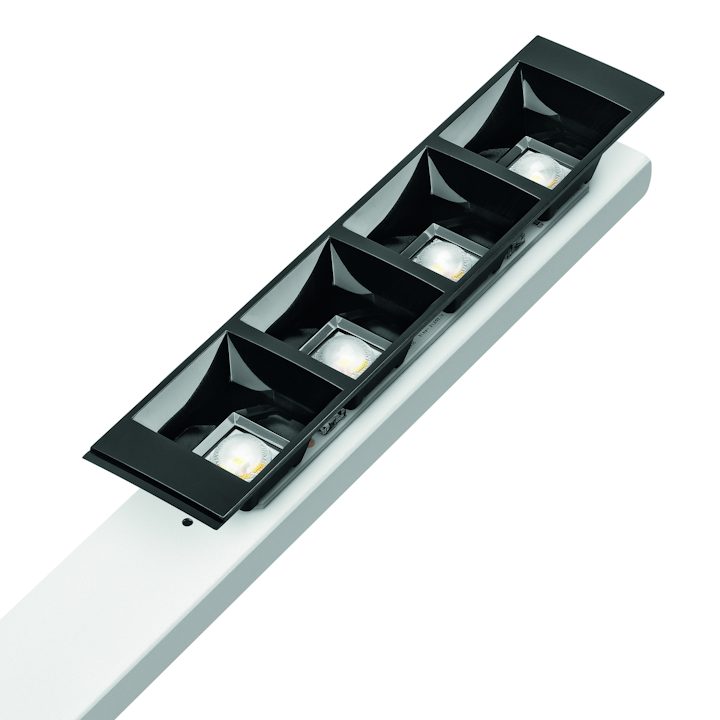 Tridonic's Linear LLE 24 mm (ADV) LED modules with LEDiL DAISY lenses and appropriate SELV LED drivers are an ideal combination for efficient office lighting without any disturbing glare. The LED modules have been specially developed for the lenses to create a precisely matched unit that is ready for use.
The LED modules, SELV LED drivers and LEDiL lenses work together in such a way that glare-free office lighting is easy to achieve. The key to this simple, user-friendly lighting solution is the fact that the arrangement of the LED chips on the LED module is tailored precisely to the lenses. The result is glare-free light (UGR<19) with a darklight character offering high visual comfort and meeting all the requirements for compliant office and workplace lighting.
Flexible combinations
The 24 mm LLE modules are available in versions for tunable white with correlated colour temperatures from 2,700 to 6,500 K and for static white with CCT's of 3,000 and 4,000 K. They are supplied in lengths of 140 mm, 280 mm, 560 mm and 1120 mm and achieve a typical luminous flux of 400, 750, 1,500 or 3,500 lm. System efficiency is 184 lm/W (static white) and 170 lm/W (tunable white). Module efficiency is up to 200 lm/W. The LED modules can be combined with a high degree of flexibility. They can be used in a wide variety of luminaires, from single units to complete light lines. Wiring and installation are easy thanks to terminals, which can be wired from the front or at the back and enabling module to module connection.
Both versions offer high quality of light and very long life of 72,000 hours. The colour rendering index is Ra > 80 with narrow colour tolerances (MacAdam 3).
The products come with Tridonic's 5-year guarantee.
About Tridonic
Tridonic is a world-leading supplier of lighting technology, supporting its customers with intelligent hardware and software and offering the highest level of quality, reliability and energy savings. As a global driver of innovation in the field of lighting-based network technology, Tridonic develops scalable, future-oriented solutions that enable new business models for lighting manufacturers, building managers, systems integrators, planners and many other types of customers.
To promote the vision of the "Internet of Light", Tridonic relies on partnerships with other specialists. The goal is the joint development of innovative technological solutions that convert lighting systems into intelligent networks and thereby enable associated services. Its profound, technical industry expertise makes Tridonic an ideal partner for established brands and for newcomers to the market.
Tridonic is the technology company of the Zumtobel Group and is headquartered in Dornbirn, Austria. In the 2017/18 tax year, Tridonic generated sales of €352.7 million. 1,690 highly skilled employees and a worldwide sales presence in over 50 countries reflect the company's commitment to the development and deployment of new, smart and connected lighting systems.
Contact:
Tridonic UK Ltd
Tel: +44 01256 374300
Email:
Web site: