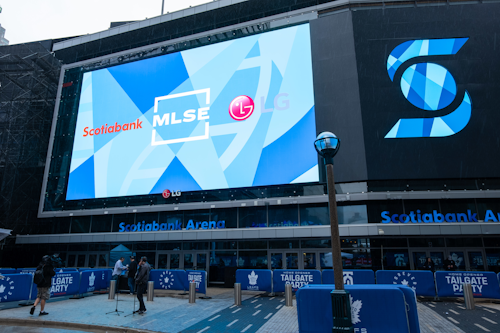 TORONTO – Just in time for the Toronto Maple Leafs and Raptors 2019 season home openers this month, Maple Leaf Sports and Entertainment (MLSE) and Scotiabank have unveiled a massive new outdoor Direct View LED (DVLED) video screen from LG Electronics.
Giving Toronto sports fans a superior viewing experience in Maple Leaf Square adjacent to the Scotiabank Arena, the new 2,200-square-foot LG DVLED display is 37 percent larger than the previous screen. The installation of the new 62-by-35-foot screen marks the expanded partnership between MLSE and LG, which have a shared mindset of elevating every game for fans. LG Electronics Canada is the exclusive Consumer Electronics Partner of the Toronto Maple Leafs and Toronto Raptors.
"LG has been a trusted MLSE partner for 10 years and has helped us provide an exceptional experience to our fans through their products," said MLSE Chief Revenue Officer Jeff Deline. "With the installation of the new LG outdoor screen, our fans' outdoor viewing experience at Maple Leaf Square and Jurassic Park will continue to be one of the best places to watch the game."
The LG DVLED screen (with a 6mm pixel pitch) consists of 1,269 modules housed in 168 cabinets that make up the single screen. Each cabinet is equipped with an IP-66 rating to ensure the highest level of protection and performance in any weather, and each module features a premium-tier chipset that provides rich, saturated colors and a high level of brightness to ensure quality display even in direct sunlight.
"Leafs and Raptors fans are passionate, and the atmosphere they create is unlike anything else in the city. They deserve the best possible experience when cheering on their teams at Scotiabank Arena," said Jason Kim, president, LG Electronics Canada. "Bringing fans this new viewing experience builds on the energy that comes from watching games at Maple Leaf Square."   

Hockey fans first saw the new LG outdoor screen in action on Oct. 2 when the Maple Leafs beat the Ottawa Senators 5-3 in Toronto's 2019-20 NHL season home opener. Basketball fans also are experiencing the new LG DVLED screen starting this month. In NBA pre-season play, the Raptors host the Houston Rockets on Oct. 10 and Chicago Bulls on Oct. 13. The New Orleans Pelicans come to town on Oct. 22 for Toronto's season home opener.
The installation of the new LG outdoor DVLED screen is part of the re-imagination of the famous Tortonto sports complex known as Maple Leaf Square during hockey games and Jurassic Park during basketball games. The project, taking place over the next few years, is bringing technological and infrastructure innovations to create a world-class fan experience inside and outside the arena. As the exclusive Consumer Electronics Partner, LG Canada will help power a new fan experience through digital signage innovations at Scotiabank Arena. The new screen in Toronto is the first of many state-of-the-art LG outdoor LED installations taking place in North America.
About LG Electronics Canada
LG Electronics Canada Inc. is composed of five business units - Mobile Communications, Home Appliances, Home Entertainment, Business Solutions and Commercial Air Conditioning. The company has offices in Toronto and Vancouver. LG Canada is focused on delivering award-winning products known for blending style and technology. These innovative products include cell phones, flat screen TVs, laptop computers and home appliances. The LG brand was established in 1995. LG Electronics is a global leader in electronics, information and communications products, with more than 117 operations around the world, and annual worldwide revenues of US $54 billion. For more information, please visit www.lg.com/ca_en.
About LG Business Solutions USA
The LG Electronics USA Business Solutions division serves commercial display customers in the U.S. digital signage, lodging and hospitality, systems integration, healthcare, education, government and industrial markets. Based in Lincolnshire, Ill., with its dedicated engineering and customer support team, LG Electronics USA Business Solutions delivers business-to-business technology solutions tailored to the particular needs of business environments. LG Electronics USA Inc., based in Englewood Cliffs, N.J., is the North American subsidiary of LG Electronics Inc., a $54 billion global force in consumer electronics, mobile communications, home appliances and air solutions. LG is a 2019 ENERGY STAR® Partner of the Year. For more information, please visit www.LGSolutions.com.
Contact:
LG Electronics Canada

Shari Balga
+1 647 261 3603

Email:
Web site: