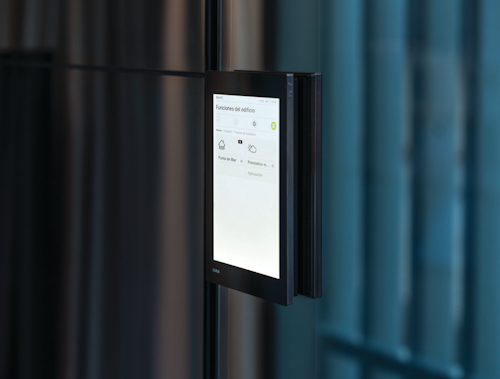 Gira, 'Made in Germany' since 1905

Gira, one of the world's leading full-range suppliers of intelligent system solutions enrich both land and sea, with a host of its market leading specification products aboard the luxury Spanish houseboat, Punta de Mar.
The Punta de Mar is the first floating hotel penthouse of its kind in Spain, offering exclusive guests a luxury holiday at sea, enhanced by the latest cutting-edge technology by Gira.
A floating paradise teeming with architectural difference, the Punta de Mar is a deluxe seafaring pavilion designed to answer the hospitality industry's growing desire for experience-driven tourism. This unique project was developed by architectural firm Mano de Santo and KMZero Open Innovation Hub, which are both based in Valencia, and all of the on-board technology is designed, planned and installed by Gira.
Mark Booth, Managing Director, Gira UK says "As a company, we are deeply rooted in the art of intelligent system integration and so it is a real privilege to include our ground-breaking technology in such a progressive, custom-made project like the Punta de Mar. Our high design, modular-style system technology and specification products are designed to offer the ultimate in comfort and convenience – and now premium holidaymakers can enjoy all the benefits of Gira intelligent solutions at sea. Gira solutions are designed to intuitively work with the user and its environment, facilitating every onboard guest with the greatest level of comfort and utility. Features include the reduction of energy consumption by optimizing the heat distribution inside, through to instinctual lighting and blind control for increased privacy and security."
Taking this maritime guesthouse to new technological heights, Gira include the following intelligent solutions:
Gira G1 - a compact, intelligent central control unit for the KNX system - the internationally recognised standard for wired bus systems - which operates all of the featured building technology aboard Punta de Mar. This includes the control and management of lighting, blinds, and heating. The Gira G1 device includes an elegant design-oriented exterior which is designed with an impressive interface: so it not only looks accomplished, it is also very simple to use. The high-resolution multi-touch display allows all functions to be intuitively operated with a touch or gesture just like you would with a smart phone or tablet.
Gira E2 Design Line - Guests can manage all the systems on board, by using the remote Gira App or via the Gira E2 Design Line, which complements the contemporary interior design with its Black Matt colourway and minimalist design aesthetic.
The Punta de Mar is an exclusive destination for water-lovers and holidaymakers who want to experience the most luxurious design and technology when on vacation. Spanning 74 m² over two floors, guests can appreciate the vast ocean view within their own private oasis that is guaranteed to engage the senses and offer superior wellbeing. The living quarters are protected by a vertical, slatted wall that allows light to pass through but still achieve the right amount of privacy.
The cabin and bathroom located on the ground floor are designed with a structural terrace that is open to the elements and offers an uninhibited view of the Mediterranean Sea: also available from the comfort of bed too! There's an access ladder to the chill-out deck featured on the upper level and the interior décor is inspired by minimalism where the architects, Mano de Santo, ensured that all design elements including the soft furnishings are using 100% eco-friendly, sustainable materials.
Holidaymakers can spend the night at sea, or moor up at a marina or private beach. Discover more information or hire the Punta de Mar via the team at KM Zero, or visit www.puntademar.com.
Architecture: Mano de Santo | Carrer de Maldonado 16 | Valencia | Spain
Tel +34 960 037 027 | info@manodesanto.com | www.manodesanto.com
Photos: Sergio Belinchon
About Gira
Gira Giersiepen GmbH & Co. KG (www.gira.com) has its headquarters in Radevormwald and is one of the leading full-service providers of intelligent system solutions for electronic and interconnected digital building management. With its numerous developments, the family company has been shaping and influencing the world of electrical installations and building management since it was founded in the summer of 1905. Gira has been a key driving force behind the forward-looking development of intelligently networked "Smart Building Systems" and the digitalisation of buildings from the very beginning with its many developments, including the Gira HomeServer. Products and solutions from Gira are characterised by German engineering, "Made in Germany" quality, sustainable manufacturing processes and operations that have as little impact on the environment and on resources as possible, for perfection in form and functionality - but above all by the fact that they make people's lives easier, more comfortable and more secure. That is why switches and control, communication and security systems from Gira can be found in around 40 countries across the globe, including in the Elbphilharmonie in Hamburg, in the Olympic Stadium in Kiev, in the "Messner Mountain Museum: Corones" in the South Tyrol and in the Banyan Tree Hotel in Shanghai. Thanks to its extensive expertise in the field of plastics technology, Gira also manufactures complex system products out of plastic for the medical technology sector. The Gira Group includes the subsidiary Stettler Kunststofftechnik in Untersteinach near Bamberg, as well as its stake in Insta Elektro in Lüdenscheid, the software company ISE in Oldenburg and the start-up company Senic in Berlin. Together, around 1,700 members of staff generate an annual turnover of more than 330 million euro.
Contact:
Gira
E-mail:
Web site: