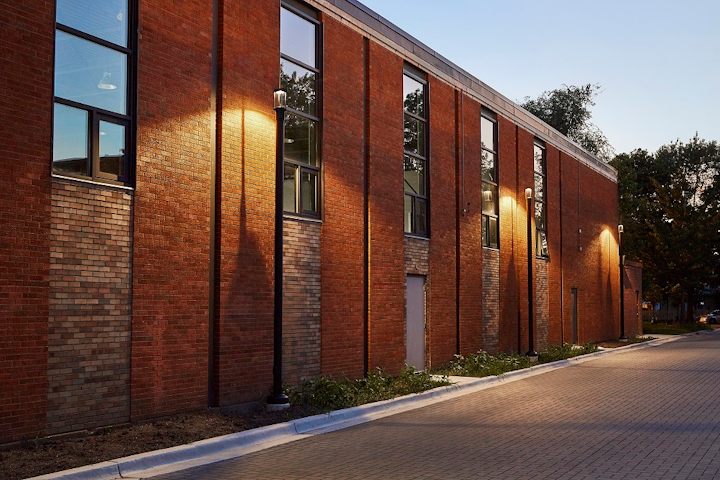 Julia Lathrop Homes was constructed as a public housing development during the Great Depression. The 35-acre complex on the north shore of the Chicago River had degraded substantially over the years, so it was earmarked for a substantial transformation and modernization.
Plans included the restoration of the original 1938 buildings and re-vamping of parking, driveways, walkways and surrounding green space down to the river. The new neighborhood was re-branded simply as "Lathrop" and now includes 1,116 units of mixed-income housing.
Developers sought to stay true to the designs of the original architects. While the interior units were renovated to modern-day standards, there was a focus on restoring building exteriors, including brickwork and limestone pillars, to their former glory.
Tree-lined front lawns and paved space for resident parking in the back of each building were also included in the architects' original designs. Pathways are prominent, guiding pedestrians between buildings, parking, a new children's playground and eleven acres of green space beyond.
Luminis' Eclipse Mini EC600 fixtures were selected to illuminate the driveways and walkways throughout the residential complex. The classic design of the black luminaires complements the beautifully restored architecture.
"We were looking for a pole fixture with a clean, architectural profile that didn't compete with the surrounding landscaping," said Erin Held, design director at CharterSills, and lighting designer for the project. "And we wanted a luminaire that offered multiple distributions."
Held selected EC600 luminaires with Type III distribution for the fixtures adjacent to the residential buildings, ensuring there was sufficient light pushed down to the nearby pathways without residual glare directed at the residence windows. Fixtures further along the paths and driveways feature a Type V distribution, where light is equally dispersed to the ground below, providing a safe, well-lit environment. Eclipse's BUG rating of zero ensures that all light is delivered where intended.
All luminaires have a 3000K color temperature, and Eclipse's advanced silicone optics offer greater color stability and performance, so residents and guests experience a warm, welcoming illumination as they enter the complex by car or on foot.
Each of the sixty-five Eclipse luminaires is affixed to a Luminis 5" diameter round aluminum pole designed to offer maximum resistance to wind load. The components are made of a corrosion-resistant aluminum alloy and hardware is stainless steel. Combined with Luminis' meticulous in-house powder coating technique that provides the highest paint quality and adhesion for protection against the weather, Eclipse will stand up to the most severe Chicago winters
Developers will be seeking LEED and Enterprise Green Communities certifications in the affordable housing sector category. Energy efficiency is one of the benchmarks, and Eclipse is up to the challenge. It delivers significant advantages in lighting efficiency and energy saving and it has a lifetime beyond 130,000 hours.
"Luminis offered the aesthetics and light distributions we were looking for," Held said. "The client is very pleased with the look of the luminaires and their performance."
PROJECT NAME: Lathrop
LOCATION: Chicago, Illinois, USA
CATEGORY: Exterior Lighting
PROJECT COMPLETION: August 2018
SPECIFIER: Harley Ellis Devereaux
LIGHTING CONSULTANT: CharterSills
LUMINIS AGENT: Archibald & Meek
PHOTOGRAPHY: Ben Romag
About Luminis
Luminis is an established manufacturer of contemporary specification grade indoor and outdoor lighting products. Combining timeless aesthetics and evolving technology, the company develops innovative luminaires that contribute to architectural intent while performing to the highest standards. Award-winning Luminis products are found in commercial, institutional, retail and municipal applications and are available throughout North America. More information about Luminis is available at www.luminis.com.
About The Luminaires Group
The Luminaires Group (TLG) is a leader in the specification-grade lighting industry. Through its unique niche brands (a-light, Cyclone, Eureka, Luminaire Led and Luminis), TLG provides a wide range of innovative lighting solutions for both interior and exterior use. Each company within TLG has a deep connection to the market segment it serves - designing, developing and manufacturing some of the industry's most innovative products.
TLG executes a strategy of acquiring companies that bring specific competences to the group and supports them in their continued evolvement. The organization leverages this combined knowledge and expertise to continuously improve process and product design, to deliver the best possible combination of cutting edge lighting and unsurpassed support. Each brand in the group retains its autonomy and brand identity facilitating an organizational culture that is nimble and able react to its own market needs.
Trusted by architects, landscape architects, interior designers and engineers, TLG products can be found illuminating spaces throughout North America. Specified in commercial, institutional, hospitality and urban environments, TLG's luminaires have been recognized for excellence and innovation by some of the leading authorities in lighting and design. They have received many awards, including several prestigious Red Dot Awards.
Find out more about the Luminaires Group at www.luminairesgroup.com.
Contact:
514-683-3883
Email:
Web site: