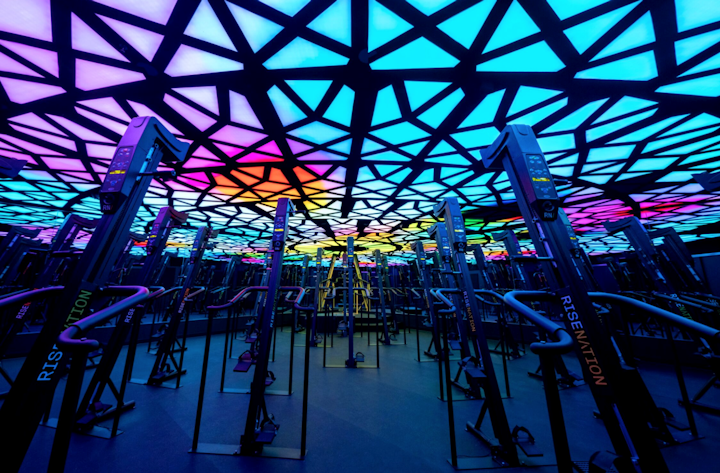 NYC Experiential Studio Uses Technology and Visual Design to Enhance Well-being and Motivate Gym Enthusiasts
Rise Nation, a boutique high-intensity climbing studio gaining popularity with fans like Jennifer Aniston and Hilary Duff, recently opened two brand-new spaces in Denver's hottest + fittest neighborhoods.
Designed by Cactus, a NYC-based experiential design firm, the Cherry Creek + Highlands locations feature a totally immersive, motivating and ever-changing sculptural LED ceiling that syncs to the beat of the music - allowing guests to get lost in a world of sound, light and energy.
The new Colorado studios by Cactus ask the question: how can design impact the way we exercise and motivate ourselves?
Cactus transformed the complete Rise Nation experience in Denver's most sought after, fitness-friendly suburbs: Cherry Creek and the Highlands. The anchor of this is the workout room itself, which is comprised of a series of dynamic, sculptural ceiling fixtures that create immersive, ever-changing environments imbued with energy.
The ceiling designs are inspired by the idea of actual mountain climbing environments, aiming to replicate the feeling of mind-wandering freedom that the great outdoors provides. Expansive, rhythmic patterns, and frequently-changing scenery translate this idea to a studio fitness setting. The overall effect is a motivating, technological thrill mixed with a trance-like nightclub energy.
The lighting system's custom content effortlessly adapts to the interval style training of Rise Nation classes and gives instructors the ability to build custom arrangements, sync music for audio reactive content, and adjust color palettes on the fly.
Cactus sorted custom-built lighting into 3 categories for an improved fitness experience:
Macro content syncs all of the lighting modules to create one large, ceiling wide canvas to amplify the shared energy and camaraderie of the studio experience
Mezzo breaks the canvas apart and reclassifies the ceiling by specific shapes to create more complex and dynamic movement that boosts studio energy
Micro puts the focus on the goals of the individual by only activating the lighting modules directly above the climbers, or focus on the instructors' podium
The guys behind Cactus, Noah Waxman and Lucas Werthein, are the innovators behind some awesome projects like Mount Sinai's patient-centric, personalized Lab 100 and the instagrammable Color Factory in NYC.
Contact:
Cactus

Email:
Web site: