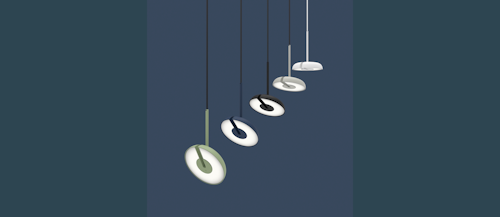 Mechanical flexibility enables precise light orientation and mood control
Montreal – Eureka (www.eurekalighting.com), an established leader in decorative lighting solutions, today announced the release of the Lily luminaire. Lily is a ceiling suspended luminaire that offers precise directional adjustability to play a functional role in highlighting artwork, signage or architectural details. 
Lily has a 180° vertical pivot that enables direct illumination from floor to ceiling, and everything in between. And it has a 350° rotation around the vertical axis for precise directional control. Lily's high-quality friction hinge balances the shade on the pivot point ensuring that the selected angle is maintained without slipping.
Featuring an optical grade translucid acrylic lens and internal reflector, Lily delivers an even Lambertian type diffusion in light outputs of 900 or 1,200 lumens.
Inspired by nature, Lily's organic shape, with a smooth rounded shade is finished with architectural grade matte fine textured paint in one of five standard colors; black, white, light gray, pale green and navy blue. Custom colors are also available upon request.
With a single cable suspension, which can be adjusted, Lily is available with canopy mounting or track system options.
"Lily is ideal in spaces where control of the mood or flexibility to orient the light to a point of focus is important," said Francois Renaud, Director of Design at Eureka. "We see lots of possibilities for the product in hospitality and commercial environments. Its light is cozy but generous and we expect to see it above tables and reception desks, or in lounge or social areas."
Lily is available in 2700K, 3000K, 3500K or 4000K color temperatures with 80+ CRI.
Feature summary:
High-quality friction hinge to balance the shade

Optical grade translucid acrylic lens and internal reflector delivers an even Lambertian diffusion

Adjustable single cable suspension (custom lengths available)

Available with canopy mounting or track system options

350

°

rotation, 180

°

pivot for full directional flexibility

900 or 1,200 delivered lumens

2700K, 3000K, 3500K or 4000K CCT

80+ CRI (90+ CRI available)

Phase dimming or 0-10V dimming

Five standard colors (black, white, light gray, pale green and navy blue. Custom colors available upon request)

5 year warranty
More information about Lily and other Eureka products is available at the Eureka website.
About Eureka
Since 1987, Eureka has been working relentlessly to enhance the environment of the end user with compelling lighting solutions.  Our passion for designing and manufacturing best-in-class, distinctive, specification grade decorative luminaires enables lighting designers, designers and architects to transform their concepts into reality. Our multi-award-winning contemporary lighting products are available throughout North America. For more information, please visit: www.eurekalighting.com.
About The Luminaires Group
The Luminaires Group (TLG) is a leader in the specification-grade lighting industry. Through its unique niche brands (a-light, Cyclone, Eureka, Luminaire Led and Luminis), TLG provides a wide range of innovative lighting solutions for both interior and exterior use. Each company within TLG has a deep connection to the market segment it serves - designing, developing and manufacturing some of the industry's most innovative products.
TLG executes a strategy of acquiring companies that bring specific competences to the group and supports them in their continued evolvement. The organization leverages this combined knowledge and expertise to continuously improve process and product design, to deliver the best possible combination of cutting edge lighting and unsurpassed support. Each brand in the group retains its autonomy and brand identity facilitating an organizational culture that is nimble and able react to its own market needs.
Trusted by architects, landscape architects, interior designers and engineers, TLG products can be found illuminating spaces throughout North America. Specified in commercial, institutional, hospitality and urban environments, TLG's luminaires have been recognized for excellence and innovation by some of the leading authorities in lighting and design. They have received many awards, including several prestigious Red Dot Awards.
Find out more about the Luminaires Group at www.luminairesgroup.com.
Contact:
Jason Broadhurst             
514-971-2514
Email:                                     
Jbroadhurst@luminairesgroup.com
Web site: