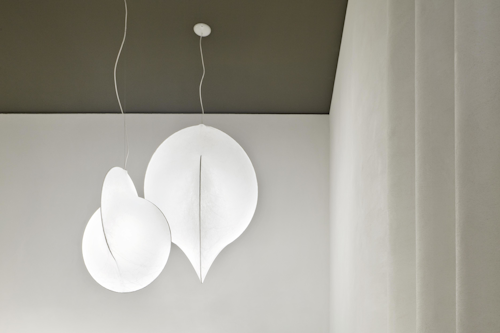 Before there was FLOS, Cocoon International (a company based in Merano, Italy) imported a resin from the US, where it had been originally used to protect packages for the US Army, and started looking for ways to utilize it in a creative way, suggesting the material be sprinkled around a steel frame to determine the shape of innovative lighting fixtures.
The designs invented (Fantasma, Viscontea, Taraxacum, and Gatto) during the experimentation of the cocoon material ultimately led to the founding of FLOS in 1962. Today, this distinguished genealogy of lighting fixtures is extended with the introduction of Overlap, a pendent light that utilizes exactly the same material and spray-on technique that was used in the 60s.
Overlap plays with the idea of the space that exists between two perpendicular planes, leaving the imagination to complete the geometry. Anastassiades uses the cocoon wrapping to create visual interest so that the interlocking rings appear as if they are trying to push through the membrane.
Each lamp consists of two layers of cocoon, the first thicker, the second much thinner, applied through a spray gun while the frame twirls on a spinning base. A final transparent paint is then applied to add a sheen. The resulting skin is very similar to a real cocoon made by a silkworm, hence the naming of the technique. 
This thoroughly modern spin on a classic technique takes the suggestion of hard angles and bathes them in soft light to illuminate any space in a way that is both subtle and intriguing.
For more information, please visit usa.flos.com
About Flos
Established in 1962 in Merano, Italy, Flos is recognised as a world leading lighting company, offering high-end design lamps and innovative lighting systems for the residential and architectural sectors. The company has a rich catalogue of iconic products by legendary designers including Achille and Pier Giacomo Castiglioni, Tobia Scarpa, Philippe Starck, Antonio Citterio, Piero Lissoni, Marcel Wanders, Konstantin Grcic, Jasper Morrison, Patricia Urquiola, Ronan and Erwan Bouroullec, Michael Anastassiades, Vincent Van Duysen, Nendo, Formafantasma and many more.
Flos has grown significantly over more than fifty years in business, demonstrating its ongoing commitment to research and innovation in lighting, combined with an extraordinary ability to identify new design talents.
In June 2015, FLOS acquired Italian architectural outdoor lighting company Ares and the outdoor division became the Group's fourth production unit, alongside the historical design, architectural and custom products sectors.
Flos is today able to offer a complete range of fully integrated lighting solutions. It exports to more than 80 countries worldwide and has single-brand stores in Rome, Milan, Paris, Lyon, New York and Stockholm. The brand's creations have received numerous international awards and many of them are now featured in the permanent collections of leading international art and design museums.
Contact:
Flos
Email:
Web site:
*Updated July 3, 2019 10:41 AM for company information correction.