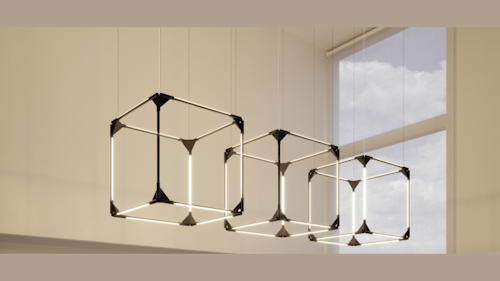 Juniper Introduces Thin Solids Collection
(New York, NY) — Juniper's signature contemporary lighting collection, the THIN System is the latest extension of Juniper's collaboration with industrial designer Peter Bristol. Inspired by the Platonic Solids, the collection displays the THIN System technology in three-dimensional Tetrahedron, Cube and Diamond shapes. The impactful design utilizes the THIN System technology with segments that magnetically snap into place for easy installation and reduced-waste shipping.
With the THIN Solids Collection, Juniper tells a story of technology and advancement that challenges the status quo in the lighting industry. Solid brass corner connectors hold rotatable LED light segments to face light inward for concentrated pendant lighting, or outward for a warm, diffused glow, based on the users' desired experience. Users can freely rotate segments to adjust direct and indirect illumination, resulting in countless options of illumination.
"We began the THIN System with a single line, emphasizing minimalism and compact technology. The collection grew into the Multiples and Primaries collections, offering geometric 2D shapes and simple prism silhouettes," said Shant Madjarian, Juniper Founder. "The THIN Solids Collection was the next logical evolution for the THIN System, expanding into the 3D Platonic solids."
"The Thin light belongs to the people. It's like a LEGO set for adults," says designer Peter Bristol, Head of Industrial Design at Facebook. "Juniper isn't chasing icons, they are developing their own. They are one of those companies developing classics and staples by continuing to perfect and fine tune an already beloved product."
Making up a complete and versatile array of designs, the collection includes three bespoke geometric pendants: the Tetrahedron, Cube, and Diamond. One of the five Platonic solids, the Tetrahedron is considered one of the strongest structural shapes for durability under pressure. The Cube captures the essence of truth, appearing the same from all angles. The Diamond represents balance as opposing forces join at its center to create a symmetrical and harmonious shape.
THIN's unique cordless magnetic connections allow for complete customization of illumination. The THIN Solids Collection can extend and interlock for larger installations or provide an impactful design when installed as a single pendant.
About Juniper
Founded in 2011, Juniper became an early pioneer in the Brooklyn lighting scene.  Today, Juniper runs a fully integrated lighting design and manufacturing studio that continues to elevate the industry through technology and artistry. The award-winning practice designs and produces upscale architectural lighting for residential, commercial and hospitality spaces worldwide. They've been an Interior Design magazine Best of the Year Finalist three years running, and their products such as the Thin Diamond Sconce, their Dekauri Collaboration, their Metropolis Suspension light and the Thin Chandelier have been heralded as best products by NYCxDesign, the Good Design Awards and Core77. For sales inquiries, please contact Juniper at .
Contact:
Juniper
Email:
Web site: