Elegant designs and dimming systems improve acceptance of LEDs
PublicScreen & Lightsystems AG unveiled a series of LED products at the recent Light+Building fair in Frankfurt.
May 4th, 2004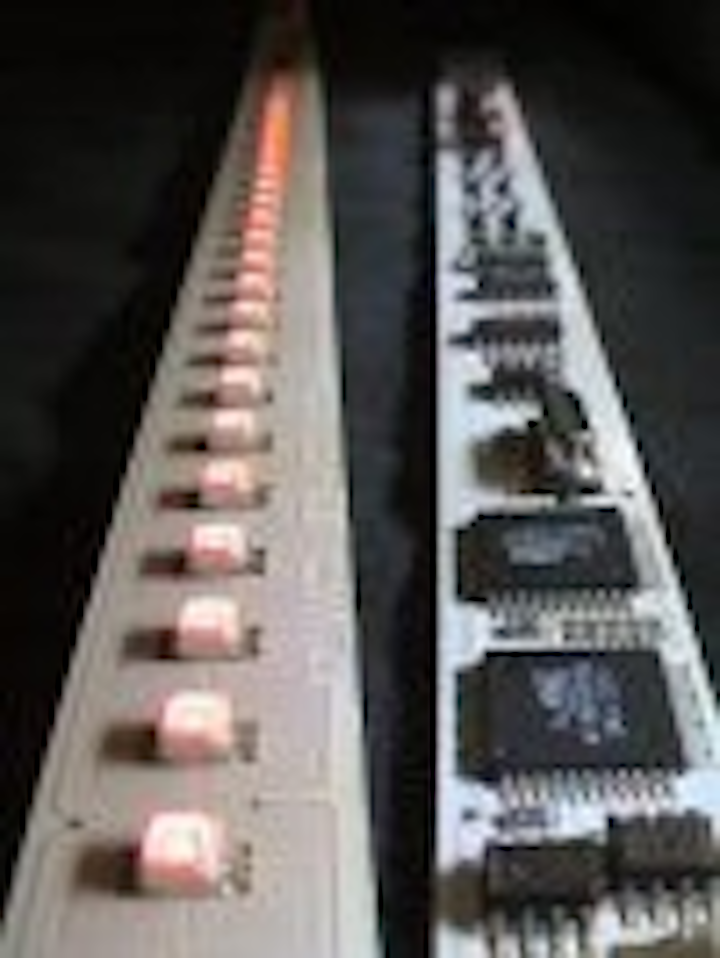 New development makes dimming LEDs easy
On the basis of many years of experience with numerous large-scale projects and special, customer-specific developments, LED specialists PublicScreen & Lightsystems AG present a new dimming system for LEDs within the framework of the innovative "DigitaLicht" series of products.
Digitally adjusting the brightness of complex LED lighting systems used to be a compromise between the lowest possible "initial brightness" and just about "flicker-free" operation. In the case of lighting scenarios, especially high-grade ones, it is often necessary to produce a light that increases very gradually from complete darkness.
With the newly developed dimming system, it is now possible to produce lighting sequences that are absolutely synchronous and completely flicker-free for the human eye, especially in the region of 0% light, using even the big computer-controlled LED lighting systems. The usual short response time of the LEDs remains unchanged so that not only very slow changes of scene but also fast switches to one colour or the other, as well as rapid changes of brightness, can be achieved without difficulty.
The LED units are controlled via the DMX system, which is well established in the stage-equipment sector. Thanks to its proven reliability and the high transmission rate, this system is also being used more and more in the field of architectural lighting.
Elegant LED lamp design for indirect lighting needs
With the collaboration of the high reputed design office "The Lightdesigners" in Limburg, PublicScreen & Lightsystems AG has developed a lamp that has a remarkably elegant and simple design, which enables it to be integrated into almost every architectural environment. The product is only in size.
The lamp consists of an anodised aluminium profile, with a cross-section of 20 x 27 mm, and the light-source is sealed over by an acrylic cover with either a clear or satin finish. The lamp is fitted with ultra-bright LEDs spaced at 10 mm from each other. There are also the alternatives of monochrome components or ones using an RGB-colour change system.
It is not a problem to create the standard construction length of 3m per piece. However, there is also the option of through wiring. This enables the operation of 15 linear metres with one point of delivery on the front, or up to 30 linear metres with one point of delivery at the middle. It is a feature that makes for uncomplicated design, particularly in the case of large-scale lighting projects, and thus greatly simplifies installation.
The energy consumption of just over 10W / m and the fact that LEDs are proven to be long lasting ensures the economically efficient operation of the system. Its rectangular shape now provides a sensible addition to the round, 25mm diameter lamp, which has been used successfully for some time and has the same technical performance characteristics.
PublicScreen & Lightsystems AG has also developed an LED line that measures just 15 mm in width with a depth of 19 mm, with an energy consumption of approx. 32 W/ linear metre (all colours at 100% brightness).
Homogenous illuminating LED panels open up new design opportunities
Also developed with Die Lichtplaner, the new panel system basically consists of a special acrylic pane and an aluminium frame with LEDs fitted in accordance with the application planned.
To achieve maximum efficiency, the light of the light-emitting diodes is bundled via precisely-milled edges in the acrylic panel. Thanks to the special construction of the acrylic pane, the light is transmitted evenly and homogenously over both sides of the pane whereby, depending on the background brightness, the pane itself remains transparent. The colour appears to "float" in space. When switched off, the panel is fully transparent. Optionally, a reflector can be integrated behind the acrylic pane, should transparency be undesirable.
The simple but elegant frame (20 x 27 mm) houses the LEDs and the control electronics for freely programmable, dynamic colour mixes and effects whereby it is possible to control various areas differently and thus create a variety of colour effects within the panel. Several LED panels can be operated as a complex light scenario via a central control unit.
The cabling required is minimal: only four conductors are required per LED panel, independently of the number of separate areas to be controlled. Individual LED panels can also be controlled as "stand-alone" units via a remote control. In this case, only two conductors are required for the power supply. The LED panels can be made as standard in dimensions up to 3 x 1.5 m. In addition to being used as floating objets d'art or as window sills behind glass façades, the extremely flat LED panels are also ideal for use as wall panels, behind satin-finished panes of glass or as panels inserted into false ceilings.
Curved LED panels (e.g., as panelling for pillars) and other special versions are possible on request. Given that the entire acrylic processing (cutting, edge-polish milling, warm shaping) takes place at the PublicScreen factory, we can cater for special customer requirements very quickly and flexibly.