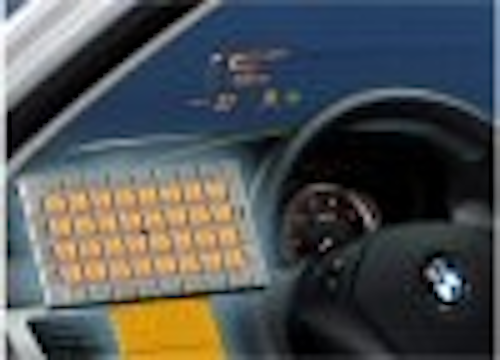 German LED manufacturer Osram Opto Semiconductors is supplying LEDs for a head-up display (HUD) that will feature in BMW 5 series cars being launched this spring. The HUD is part of a driver information system that Siemens VDO Automotive is supplying to BMW.
The LED light source acts as the illumination source for a thin-film transistor (TFT) display, the image from which is projected onto the BMW's windshield. The most important property of the LED light source, and the one that enables it to be used in the HUD, is its extraordinarily high luminance of more than 500,000 cd/m
2
.
The light source comprises a total of 128 high-brightness red and green LED chips arranged in groups of four in a matrix of 32 chip modules. These two colors combine to produce the orange color used for all the dashboard indicators in the car.
The arrangement of LEDs provides particularly uniform illumination for the TFT display on which the head-up display is based. The matrix is attached to an aluminum heat sink and comes with a casing and flexible cable connector.
Measuring just 58 x 26 mm, the complete LED module takes up much less space than conventional lighting solutions and is particularly economical with precious energy resources.
The head-up display appears to float over the bonnet of the car and presents drivers with important data such as current speed, warnings and navigation information so drivers no longer have to take their eyes off the road.
This optical effect is created by using four mirrors to direct the image from the TFT display onto the BMW?s specially adapted windscreen. The display can be programmed and is easy to read day or night in all conditions thanks to an Osram light sensor which automatically adjusts the brightness according to ambient conditions.
Properties such as long life, vibration resistance and thermal stability make these LED light sources ideal for use in the automotive industry. The design can be varied in terms of its color, shape and size.