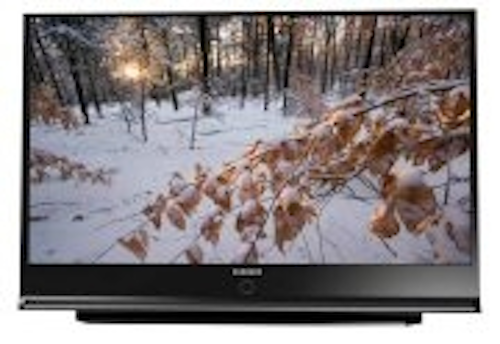 Samsung Electronics has begun US shipments of its new line of Slim Depth LED Engine Widescreen DLP® HDTVs, which feature PhlatLight™ LED technology from Luminus.
The six new models use Luminus' high-powered, energy-efficient LED illumination in place of a UHP or arc lamp, the traditional light source found in most projection TVs.
Samsung's new LED-based Slim DLP HDTVs with 1080p resolution are on store shelves at national US retailers including, Best Buy, Circuit City, Sears, and Tweeter.
Last year, Samsung introduced the first LED DLP, the HL-S5679W, and the six new models in this year's product line are available in three large screen sizes: 50-, 56- and 61-inch. Prices start at $2500.
The new models are illuminated using a single PhlatLight PT120 chipset, which was specifically designed and optimized for use with the TI's xHD5 1080p DLP chipset. The PT120's red, green and blue LEDs combine to produce pure, accurate sequential colored light and cycle at 2.9 kHz, 48 times faster than traditional television frame rates, creating a smooth, stable color and superior motion quality.
Luminus says that the PhlatLight PT120 chipset is currently in full-scale production at the company's own state-of-the-art semiconductor fab just outside of Boston, Massachusetts.
The new TV models have a cabinet with a depth of 13.4 inches, some 2 inches less than the previous Samsung LED DLP.
"We've taken the best features from our LED DLP model from last year, which uses Luminus' PhlatLight technology, and combined it with our new Slim DLP design to create six new models to deliver one of our most innovative product lines yet," said Dan Schinasi, senior marketing manager for product planning at Samsung Electronics America. "By incorporating the performance advantages and energy efficiency that PhlatLight LEDs provide, we are able to bring more value and flexibility to the consumer and produce one of the best viewing experiences available on large screen HDTVs today."
Why use LEDs in DLP TVs?
Compared with conventional light sources, LEDs last the entire lifetime of the TV and deliver a consistent picture without fading, saving consumers lamp replacement costs and inconvenience over the life of the set.
LEDs produce 40 percent more color than traditional lamp-based TVs due to the technology's unique ability to individually create pure, primary colors, which allows owners to enjoy superior color reproduction. LEDs also eliminate mechanical noise that is sometimes prevalent in TVs that are equipped with color wheels.
Since bulb warm-up time is unnecessary, the picture appears instantly with full brightness. In addition, TVs with LED illumination are more environmentally friendly because they eliminate the conventional lamp that requires repeated replacement during the lifetime of the TV.