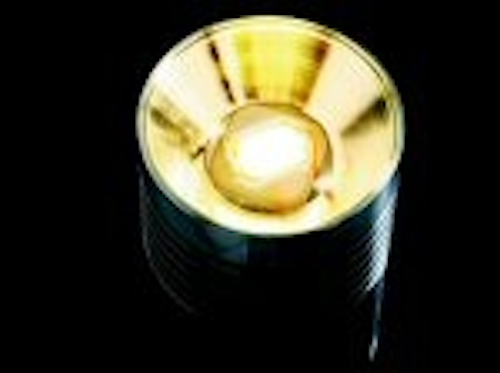 *** Company press release***
Sharp Microelectronics Europe of Hamburg, Germany has introduced four new LED lighting modules. With a lighting efficiency of up to 80 lumens per watt depending on the module, the Sharp LEDs are at the forefront of today's LED lighting with regard to energy efficiency.
Furthermore, the Sharp LED modules are characterised by their extremely long life cycle: in addition to their superb energy efficiency, 40,000 hours operating time at an operating temperature of 80°C also ensure that the overall system costs stay low, thanks to the long maintenance intervals of the respective lighting application.
Divided into ten parallel-switched series of three, the modules are structured in a matrix of 30 LED chips that provide a lighting performance of between 170 and 280 lumens, depending on the module.
An aluminium ceramic plate of 18 x 18 x 1.5 mm is used as substrate material. Already equipped with mounting drill holes the modules can be securely fixed to a suitable cooling element without great effort.
The colour temperature of the four white light LED lighting modules from Sharp lies within the range of 2,800 to 6,500 Kelvins with the shades 'normal white light', 'warm white light', comparable to a light bulb and two shades in the area 'High Colour Rendering white'.
Through two slightly different phosphor mixtures, the two 'High Colour Rendering' LEDs reach a CRI value of 90 and thus ensure high colour fastness and attention to detail. This is of decisive importance everywhere where artificial light should not distort the depiction of the illuminated objects.
'High Colour Rendering' LED modules are therefore in demand in areas such as photography, shop window decoration and goods presentation, as well as in medical technology e.g. for surgery lamps.
The powerful LED light modules from Sharp are generally suitable for a host of applications: in interior rooms e.g. for study, reading and desk lamps, decorative lighting, direct and indirect lighting for work surfaces in kitchens etc., as spotlights for stages and building sites or as components for large sized LED displays. The LED modules are also a long-lasting solution for reading lamps on public transport such as trains, aeroplanes and buses.
The four new LED modules are available immediately from the Sharp sales offices and distribution partners.