Samsung 70-inch LCD TV uses LEDs for improved contrast
LED backlighting with local dimming technology enables very high contrast in Samsung's 70-inch high-definition LCD television. LEDs also enable reduced flicker.
Jun 18th, 2007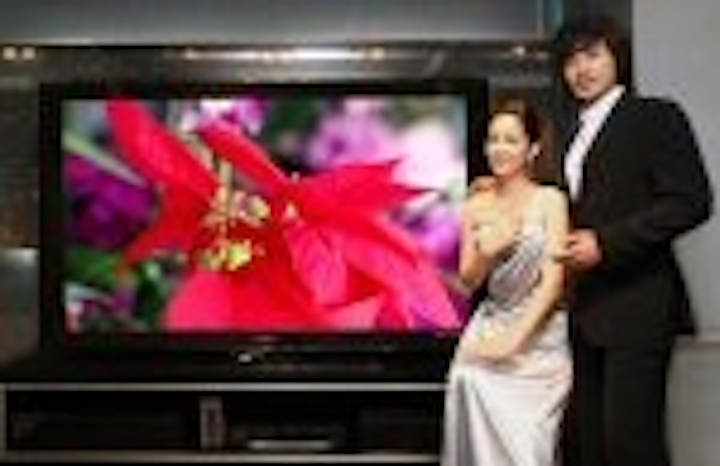 Samsung Electronics Co., Ltd. has introduced a 70-inch full high-definition LCD TV in Korea that employs an LED backlight instead of the conventional cold cathode fluorescent lamp (CCFL) approach.
The company says that its new TV boasts Samsung's very best image enhancement technologies. Moreover, Samsung's local dimming technology enables the brightness of the LED backlight match the brightness of the image being displayed. In other words, the LEDs are dimmed in areas where the image is dark, while remaining brigh in other areas.
This local dimming technology, which can only be achieved with LED backlighting where the LEDs are arranged in a backlit configuration (as opposed to an edgelit configuration) results in a dynamic contrast ratio of 500,000:1. At the same time, power consumption is lowered by as much as fifty percent since the LEDs are not operating at peak brightness at all times.
If this was not enough, Samsung has also used LED scanning to "eliminate the flicker and ghosting problems associated with large-screen LCD TVs." The LEDs are rapidly switched turned on and off in sequence to correspond to the frame rate of the display, so that no image is produced between frames. With a constant brightness CCFL (or LED) backlight a greyscale image is produced during the transition from one frame to the next, which results in annoying motion artifacts.
"I am pleased to introduce the 70-inch Full-HD LCD TV with innovative Local Dimming Technology," said JongWoo Park, President of the Digital Media Business, Samsung Electronics. "Samsung will continue to strengthen its LCD TV leadership, enhancing Full-HD and large screen LCD TV line-up."
Samsung plans to put the product on sale worldwide in the second half of this year.