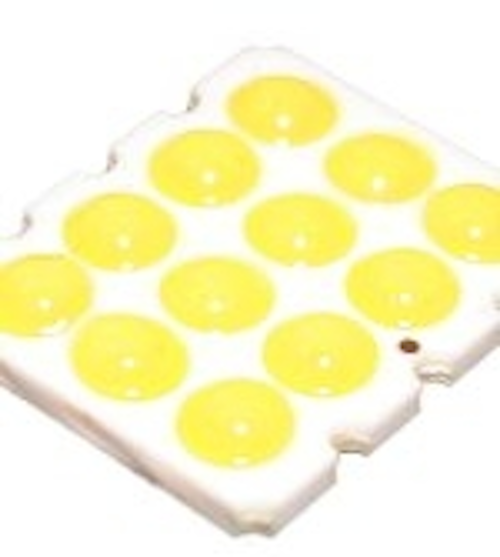 Intematix has announced the new C1109D packaged LED arrays that deliver light output of 345 lm (warm white) and 450 lm (cool white). The company has priced the arrays aggressively at 110 lumens per dollar for warm white and 143 lumens per dollar for cool white claiming that the pricing will reduce the payback period for SSL investments.
The new LEDs achieve greater efficacy through innovations in LED chips, phosphor, and packaging. Ilkan Cokgor, Director of Business Development for Intematix, points out that typical 5W to 10W, high-brightness LEDs have an efficacy in the 60-lm/W range for warm white light and a bit higher for cool white light. Cokgor states, "We have improved this from 60 to 70 lm/w to 90 to 100 lm/W."
The C1109D is a follow-on product to the C1109 LED – delivering the 30% efficacy improvement discussed previously. In the products, Intematix integrates an array of 12 LED chips in a proprietary ceramic package. Addressing the improved efficacy, Cokgor states, "There is an improvement on the LED chip side, but also we are using a different kind of phosphor this time that provides part of the improvement, as well as the package itself."
The ceramic package design utilizes a separate cavity for each LED and the C1109D is thinner than its predecessor with a new cavity structure. According to Cokgor, the new package offers advantages in the optical and thermal areas.
"We redesigned our C1109D package. We are now using a dome lens on each cavity which has improved the light extraction efficiency by about 10%," states Cokgor. "We also reduced the thermal resistance of the package. Reduced thermal resistance improves the LED performance when the LED runs at steady state -- when it warms up." The latter point essentially means that the LEDs are cooler in the new design and therefore brighter.
As for the phosphor, Cokgor claims that the company has developed a new red phosphor that is 10 to 15% more efficient than the company's prior red phosphor. The red phosphor is mixed with other colors to deliver the warm and cool white light.