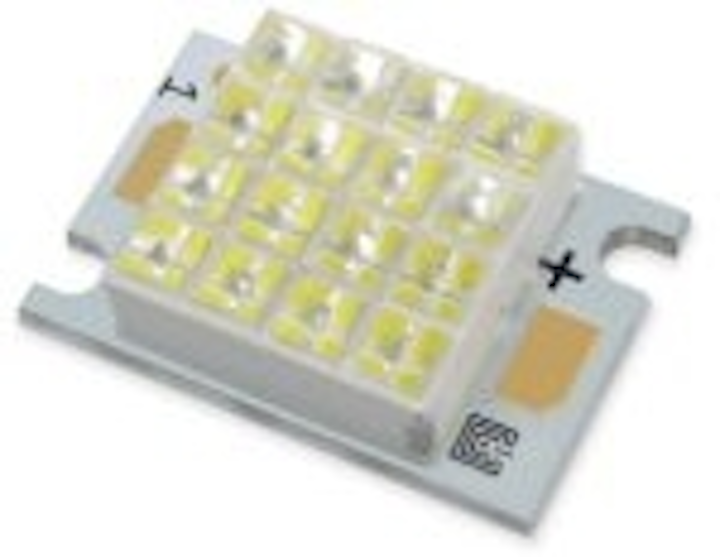 Illumitex, a venture-funded company based in Austin, Texas, has unveiled its Aduro series of packaged LED arrays. The company says that the new products will "transform LED lighting design" by emitting uniform, narrow-beam white light without the need for expensive, inefficient secondary optics. Illumitex has received around $22 million in venture funding from investors such as New Enterprise Associates.
Matt Thomas, CEO of Illumitex, says that Illumitex has achieved "a fundamental breakthrough in delivering the most usable lumens to the task surface, thus providing unrivaled overall lighting system efficiency."
Typically, LED manufacturers use a basic dome optic in an attempt to control the light output from the package. However, says Illumitex, this has forced fixture manufacturers to utilize costly, inefficient secondary optical lenses and reflectors. Illumitex says that its approach results in a highly efficient and uniform distribution pattern.
"We have reinvented the basic die and package structure to create the industry's most optically advanced LED," added Thomas. "Our technology enables us to deliver perfectly uniform light exactly where the customer wants it."
The Aduro LEDs are available in 4-die and 16-die arrays, and the products are offered in cool, warm and neutral white light with radiation patterns of 10, 20 and 30 degree beam half-angles. The 16-die package measures 16 x 24 mm and has a typical output of 500 lm at 5700K when driven at 500 mA. The typical forward voltage is 13V, so the input power is 6.5W and the efficacy is around 77 lm/W.
LEDworks, an Illumitex customer headquartered in Singapore, is providing Aduro-enabled lighting fixtures for a lighting installation. "Illumitex has developed the most efficient and cost-effective LED lighting solution on the market," said Philip Mak, CEO of LEDworks. "We are using Illumitex LEDs to create the industry's highest performing lighting fixtures. The Aduro product line represents a huge leap forward in light quality. We view this installation as the first of many collaborations."
According to Illumitex, its proprietary technology increases photon extraction and directs light out of the LED in a uniform, controlled beam angle, thereby increasing the lumens ultimately delivered to the lighting task plane. By eliminating secondary optical systems, Illumitex says that it creates a competitive advantage for fixture manufacturers.