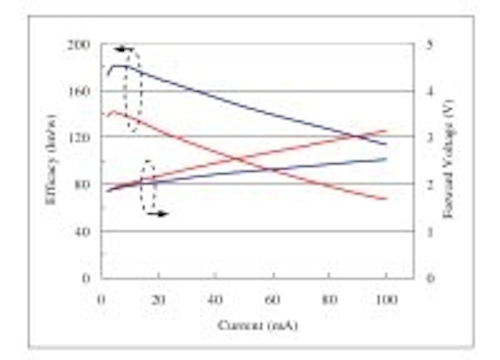 Taiwan-based LED chip maker has developed the latest generation of its Aquarius-series AlGaInP LEDs, which demonstrated 168 lm/W efficacy at a dominant wavelength of 610 nm when driven by 20mA.
Developed in the company's Epistar Lab, the small-area
LED chips
measure 14x14 mil (0.36 x 0.36 mm), and have an efficacy of 180 lm/W at 6mA.
Epistar says that its novel light-extracting technology has enabled an increase from 133 lm/W to 168 lm/W. The chart shows the new generation of Aquarius-series chips with higher efficacy and lower forward voltage as compared to previously announced AX14.
The chips have a horizontal structure to satisfy chip-on-board (COB) packages for lighting applications which require multiple chips mounted in series on non-conductive substrates.
Epistar says that this level of performance "promises to make these small chips a preferred choice for outdoor display, and RGB back-light unit (BLU) applications."
Furthermore, says Epistar, these red chips could be combined with other colors to enable warm-white LEDs with higher efficacy and a better color rendering index than would be achieved through conventional blue LED conversion with phosphors.
The new generation of Aquarius-series AlGaInP LEDs have been demonstrated in the laboratory, but plans are "already in motion to transfer the technology to Epistar's product line," says the company. Further development of higher-efficacy AlGaInP LEDs is also under way.