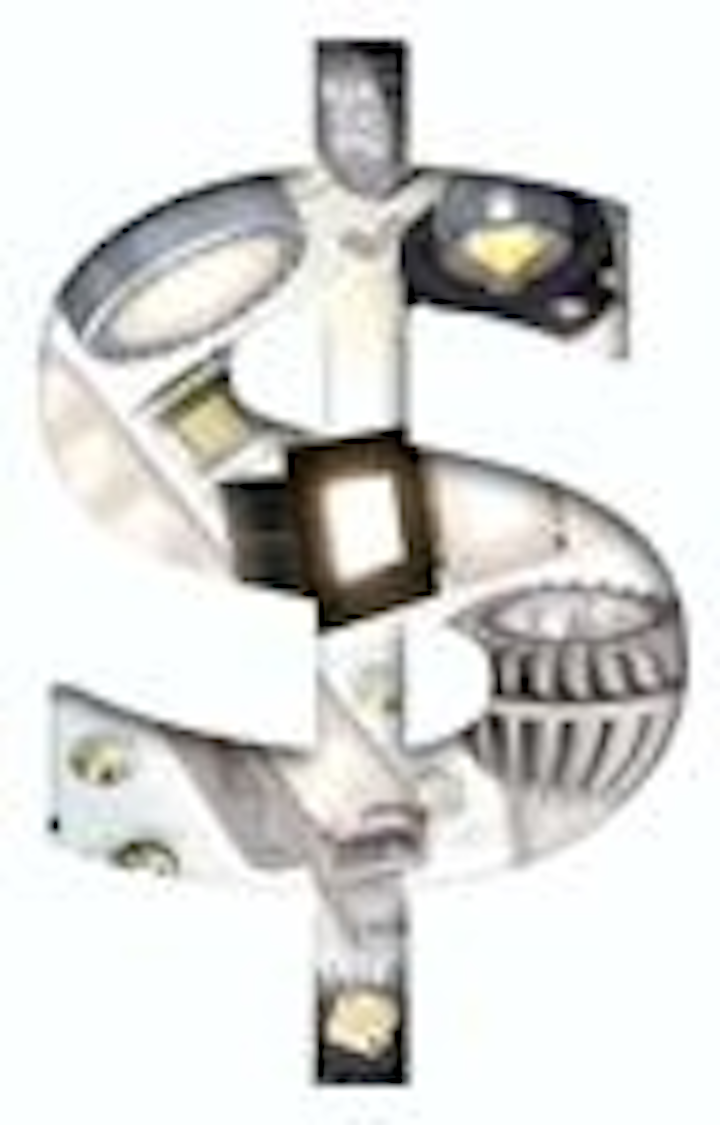 +++ Cover +++
The LED and solid-state lighting industry is a growing segment of focus for the venture-capital community, as our article from Braemar Energy explains.

+++ Features +++
FINANCE
Venturing into LEDs: An overview of venture capital and its investment in lighting
DENNIS COSTELLO of Braemar Energy Ventures explains the reasons for this level of interest and describes what makes a particular company in the sector attractive as an investment target for venture capitalists.



DRIVERS
LED driver lifetime and reliability hold the key to success in LED lighting projects
Product lifetime and reliability are two very different but related concepts. Understanding the issues relating to both parameters is a critical aspect of designing a product that will perform as expected in the field, explain GEORGE MAO and MARSHALL MILES.
OFF-GRID LIGHTING
LED lighting provides long-term value for the poor
Off-grid LED lighting provides clear benefits for users in developing countries, and can also be built into a profitable business for committed suppliers, explain STEWART CRAINE, HARRY ANDREWS and SAM ANDREWS.
OUTDOOR LIGHTING
SSL Luminaires must deliver reliable beam patterns in outdoor applications
Luminaires for outdoor SSL applications such as street lights must deliver increasingly precise beam patterns to minimize light pollution and maximize efficiency by directing light to the appropriate area, says MAURY WRIGHT.
LED CHIP DESIGN
Nano-patterning boosts LED efficiency
A variety of nano-patterning technologies can be used to enhance the light-extraction efficiency of LED chips, according to KI DONG LEE, ROBERT SJODIN and TORBJORN ERIKSSON.
INTERVIEW
Intematix to take materials-centric approach under Mark Swoboda
Mark Swoboda, the new CEO of Intematix, will leverage the company's materials heritage to capitalize on the value proposition of phosphors and phosphor-based lighting components, reports MAURY WRIGHT.





CIRCUIT PROTECTION
Circuit-protection devices guard against electrical transients
Open LED protectors can cope with significant over-voltage transients and keep a series string lit when one LED fails as an open circuit, say PHILLIP HAVENS, JIM COLBY and TEDDY TO.
LIGHTING: COMPATIBILITY
Compatibility and reliability are key factors in the design of LED lighting devices and systems
For everyday operational scenarios, LED lighting devices and systems must be compatible with power systems and electrical infrastructure, explains PHILIP KEEBLER.

DESIGN FORUM
System-level approach yields optimized LED backlight design
LEDs are quickly becoming the dominant backlight source for large displays, but design teams need to address thermal, power-management, dimming and other issues to yield an optimal design say XIAOPING JIN and ARKADIY PEKER.
LAST WORD
Solid-state lighting isn't just about decreasing energy consumption
More-efficient, lower-cost lighting could cause people to consume more light in the future, so overall energy consumption may not decrease, says JEFF TSAO of SANDIA NATIONAL LABORATORIES.


+++ Columns/departments +++

COMMENTARY
Money talks, and LEDs are no exception

NEWS + VIEWS

Luxeon shipments hit the billion-unit mark
The Home Depot unveils LED lamp range
Rubicon wins 6-inch sapphire supply contract
Cree's annual LED product revenue reaches $790 million
SemiLEDs files for $172.5 million US IPO
OLED lighting market of $6.0 billion predicted by 2015
FOCUS ON

FUNDING + PROGRAMS

DOE publishes updated plan for SSL manufacturing R&D
DOE plans consumer-education initiative on energy-saving lighting
GE websites focus no lighting legislation