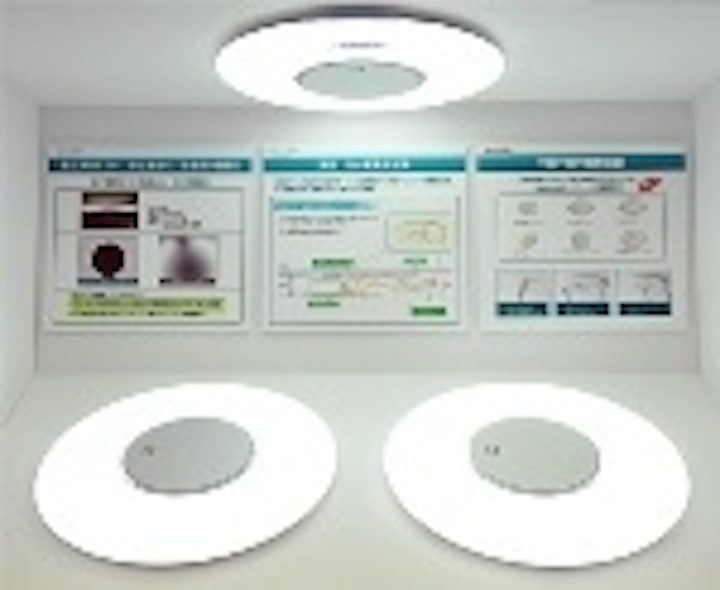 Sharp held a press conference in Japan to launch a family of six ceiling-mounted LED-based solid-state-lighting (SSL) luminaires for the home market. The slim luminaires measure a maximum 43-mm thick, and come with remote controls that consumers can use to control light levels and with some models the color temperature.
The DL-C501V, DL-C301V, and DL-302V fixtures target room sizes ranging from 12.2-18.4 square meters and all include the dimming and color-control capabilities. In fact, the luminaires include an Eco Light Rhythm function that automatically adjusts brightness and color during the day – providing cool daylight white in the morning for wakeup and warm white in the evening for relaxation. In total, the luminaires provide 110 different levels of color and brightness.
The DL-C201d, DL-C301D, and DL-501D only support dimming capabilities and target room sizes ranging from 9.2-18.4 square meters. All three models come in a cool-white color temperature.
Across the product line, the new luminaires offer light output ranging from 2350-5100 lm. Sharp rates the luminaires for 40,000 hours of life. Power consumption ranges from 46W-86W.
Sharp supplies two different styles of remote controls for the fixtures – one for the models that only dim, and a second for the models with changeable color.
Sharp has not announced plans for the new luminaires beyond the Japanese market. The company did announce a major push into the US and other world markets earlier this year at Lightfair International. Indeed the company demonstrated a retrofit LED lamp with a remote control for dimming and color temperature that may come to the US later this year.