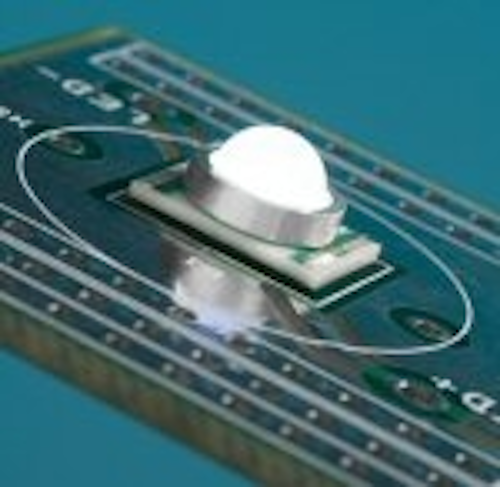 US LED manufacturer Cree has opened up a whole new field of general lighting applications with its latest generation of XLamp power LEDs. The company describes the XR-E series as a "new class of lighting LED".
The headline figures show a luminous flux of up to 95 lumens at 350 mA, equivalent to a luminous efficacy of 85 lm/W. At a current of 700 mA, the output is as high as 160 lumens for the top bin.
These are highly impressive numbers, but the most useful comparison is given by the typical values at the center of the production distribution. For the XR-E, these numbers are 80 lumens at 350 mA, with 70 lm/W. Many low-power LEDs operating at 20 mA would struggle to achieve this efficacy value.
Mark McClear, Cree's director of marketing for solid-state lighting, emphasized that LEDs typically producing 80 lm are already in volume production. "We've already shipped more than one-quarter million devices," he told LEDs Magazine.
Cree's current-generation XLamp 7090 XR yields "only" 57 lm at 350 mA, equivalent to 47 lm/W. Osram's new
Platinum Dragon
device, launched last week, produces 70 lm at 700 mA, and has an efficacy of 30 lm/W.
Cree says that its new LEDs are designed to enable general lighting applications, such as street lighting, retail high-bay lighting and parking-garage low-bay lighting, as well as to improve light quality in consumer applications such as flashlights.
In McClear's view, the leap in performance demonstrated by Cree will now make LEDs a cost-effective alternative to traditional lighting technologies in many general lighting applications.
The increased performance of the XR-E is due to several improvements in chip and phosphor technology, says McClear. The new LED retains the same package as its predecessor.
The XR-E is the first power LED based on Cree's EZBright 1000 LED chip, unveiled last month. The device has a very low forward voltage, around 3.3 V at 350 mA, contributing to lower power consumption. The XR-E also has vastly improved color uniformity now that Cree has started to use a different phosphor process to deposit a thin, uniform layer of material directly onto the chip surface.