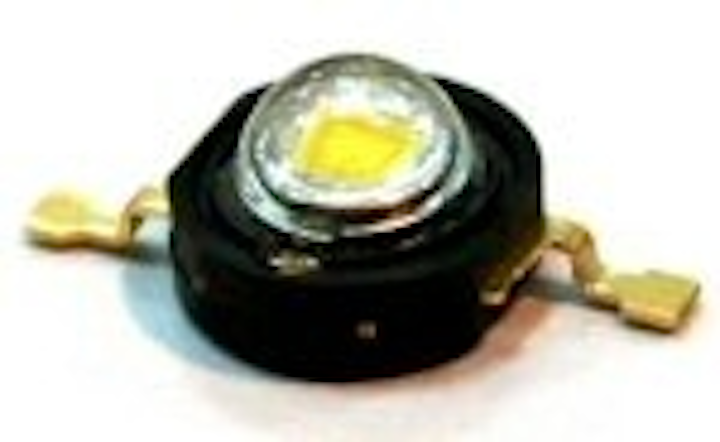 Edison Opto, a Taiwan-based manufacturer of high-power LEDs, has unveiled its Edixeon KLC8 series, which has an extremely high luminous flux of 250 lumens a drive current of 1A.
It also delivers a luminous efficacy of 100 lumens/watt at 350mA, with a lifespan exceeding 50,000 hours.
The package, able to operate from a wide drive current range of 0-1000 mA, contains a single 40-mil chip supplied by Cree, according to Vincent Lee, Edison Opto's business development manager. "We design and manufacture the packages at our production site in Taipei, Taiwan," he says.
Lee says that the KLC8 are currently available in high volume. The figures quoted above are the best possible values, while the typical efficacy value is 85 lm/W at 350mA.
Recently, Seoul Semiconductor unveiled its P4 power LED, with a maximum flux of 240 lm at 1 A, and efficacy of 100 lm/W at 350 mA. Two types of device are available, providing either 80 lm or 100 lm at 350 mA, while the typical efficacy is 85 lm/W.
Edison's KLC8 incorporates advanced packaging technologies, says Lee; "Better thermal conductivity is the primary reason behind the high performance. It's a result of various packaging material improvements, as well as [improvements in] the chip itself."
This new LED delivers efficacy values higher than conventional fluorescent and incandescent lamp, suitable for use in general illumination, decorative lighting, street lighting, LCD display, projector, and more.
There are white and warm white KLC8 available. These sophisticated LEDs are sealed in tape and reel packaging, and conform to the requirements of Pb-free IR-Reflow process. It will help to simplify the manufacturing process and yield elevated productivity.
White (4,500-10,000K) and warm white (2,800-3,800 K) devices are available. The warm white LED has a flux of 70 lm at 350 mA.