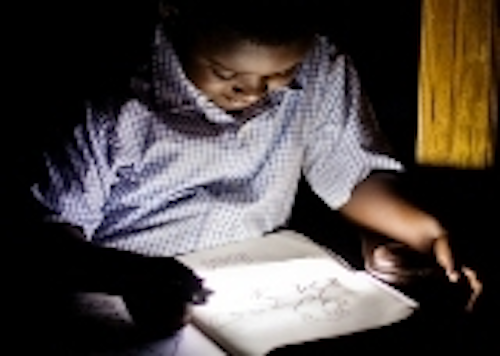 Royal Philips Electronics will launch a new solar-powered reading light, which enables people to both read and write after dark, in autumn 2009. "My Reading Light" was developed specifically for the education sector in Africa and will allow school children to continue with their homework after sunset.
For the estimated 500 million Africans who live without electricity, nightfall means either darkness or the flickering light of a candle or kerosene lamp. Since kerosene lanterns pose health and safety risks, are expensive, and have a low light output, LED-based lamps may be a solution.
Offering these lights leads to a "triple-win: the lives of people in Africa will be generally improved, LEDs result in a very low carbon footprint, and companies offering the right solutions stand to gain," says Rudy Provoost, executive VP and CEO of Philips Lighting.
The reading light is extremely lightweight and can be hand-held or placed over the page of a book, allowing the user to read or write. There is a choice of high/middle/low dimming settings. It has a built-in rechargeable battery providing between 3.5 and 9 hours of light depending on the light level selected.
The reading light will be available in two versions: a standard light and a slimmed down, low-cost version with a target consumer price of < $US15.
This new development is part of Philips commitment both to developing sustainable lighting solutions for Africa and to its partnership with the Dutch government on the Sustainable Energy Solutions for Africa (SESA) project, which aims to provide 10 million people with affordable, appropriate and sustainable energy services across ten sub-Saharan African countries by 2015. SESA links with the existing UN Millennium Development Goals project.