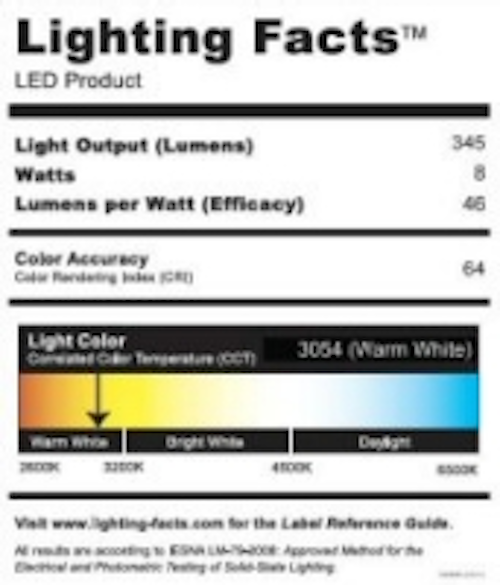 Radionic Hi-Tech, Inc., a lighting manufacturer based in Chicago, Illinois, has become the first manufacturer of under-cabinet LED lighting fixtures to receive the
Lighting Facts
label.
The DOE has confirmed to
LEDs Magazine
that Radionic is the first to receive a Lighting Facts label in this category, and there are currently around 20 products eligible to use the label.
Sponsored by the U.S. Department of Energy (DOE) and endorsed by major retailers including The Home Depot and W.W. Grainger, the Solid-State Lighting Quality Advocates label was "created to assure and improve the quality of LED lighting products".
The SSL Quality Advocates program showcases LED luminaire manufacturers who commit to testing products and reporting performance results according to industry standards. For lighting buyers, designers, and energy efficiency programs, the Lighting Facts label provides information essential to evaluating products and identifying the best options.
Similar to the label one might find on the back of a food carton, Radionic will include a "Lighting Facts" label (see image) on its LED products so that consumers can more easily understand and compare solid-state lighting products.
Radionic CEO Jeffrey Winton explains, "We are pleased to be doing our part in communicating honest information to American consumers about LED products and hope additional manufactures will join us in our commitment to making the transition towards more sustainable forms of lighting, easy and affordable for average Americans."
Winton added that the lighting industry has yet to release an affordable, high quality under-cabinet LED fixture. The first Radionic products to undergo the independent lab tests required to receive the Lighting Facts label included its ZX Series in warm white.
Radionic says the ZX Series is engineered to emit comparable light to a typical fluorescent under-cabinet fixture, but will use approximately half the energy. The company also says the fixture is "innovatively designed and specially priced to meet the average American consumer's needs." The ZX513 and ZX515 currently have patents pending at the U.S. Patent and Trademark Office.