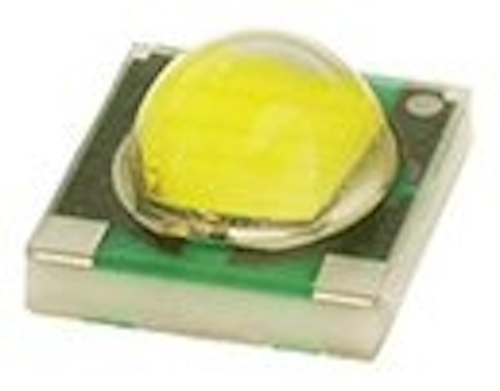 Cree, Inc. has announced commercial availability of the
XLamp® XP-G
LED, described as "the industry's brightest and most efficient lighting-class LED". The new product was previewed earlier this year in a
press release
before Lightfair.
The XP-G LED, currently available in cool-white, can produce up to 367 lumens when driven at 1A, at a typical efficacy of 111 lm/W. The highest-performing bin also has a standard minimum flux at 350 mA of 139 lm.
The XP package size is 3.45 x 3.45 mm. This makes the XP-G 46% brighter and 64% more efficient than the highest-performance XR-E LED, with an 80 percent smaller footprint.
"Cree's XLamp XP-G cool white LEDs set a new standard for LED performance," said David Chow, president, 4Sevens, LLC. "For our flashlights, the XLamp XP-G LED was a clear choice because of its high lumen output, unmatched efficacy and compact package size."
This level of performance can potentially reduce the required number of LEDs, as well as the size and cost of LED fixtures. High efficacy at lower current (up to 132 lm/W typical at 350 mA) can lower the total power requirement for a portable or solar lighting application, which can reduce the amount of solar cells or batteries needed.
"This establishes a new level of performance for LEDs," said Paul Thieken, Cree director of marketing, LED components. "We now deliver lighting-class efficacy at 1A drive current. In addition, we have begun offering limited samples of an S2 flux bin, providing up to 400 lumens at 1A. We target availability of XP-G neutral and warm white LED samples by end of calendar 2009."