WEB EXCLUSIVE: Nualight helps to reduce energy costs across Marks & Spencer grocery stores
LED lighting systems are helping to reduce the energy consumption and improve the visual appeal of food displays for a major UK retailer.
Feb 11th, 2009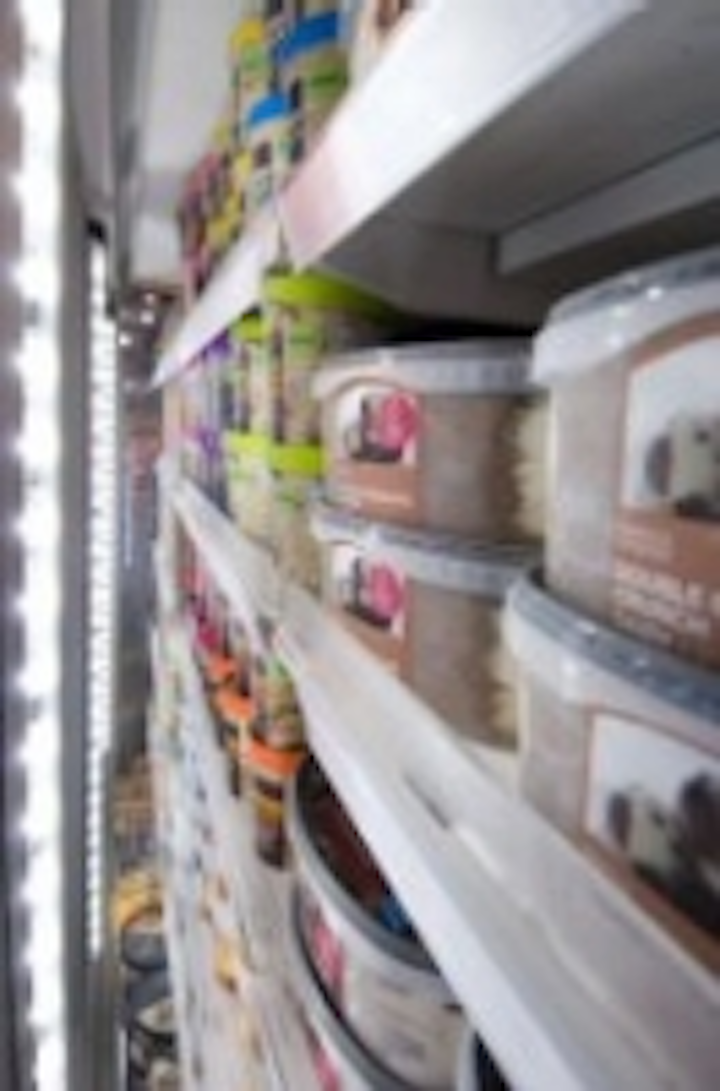 The UK government's renewed carbon reduction emission targets and the impending recession is putting ever-increasing demands on retailers to cut costs and meet green commitments. Consumers are also placing increased demands on corporations to become more socially and environmentally responsible. The growth of online shopping is forcing retailers to create "leisure destinations" to lure shoppers back to the High Street. Green technologies are one such solution that retailers are relying on, not only to meet environmental demands, but also to cut costs and enhance product displays.
As experts in green retailing, Nualight, a global leader in refrigeration illumination displays, is all too aware of the challenges retailers face in today's difficult trading environment. One area in which retailers can reduce carbon emissions and save costs is energy consumption.
Retailers are one of the highest users of lighting, and 50 to 70 per cent of this is mostly used in product merchandising in refrigerated retail display cases, such as freezers, coolers and beverage dispensers. By replacing traditional fluorescent lighting with illumination based on LEDs, energy consumption is halved in these applications.
Nualight has developed a number of energy efficient product illumination solutions that expend minimal heat in order to reduce the total energy used in refrigerator displays using LED illumination technology. For example, the Nualight Vantium Porto range has been proven to reduce energy consumption in refrigerated glass-door displays by more than 60%.
"Relying on out-dated technology that greedily eats up vast amounts of energy is no longer a viable solution for any forward thinking business," says Vincent Guenebaut, retail applications expert at Nualight. "This was the key driver for us to develop LED-based luminaires that provide higher levels of illumination, last longer and consume less than half the energy when compared to existing fluorescent and halogen technologies."
Action plan
One forward-thinking retailer looking to embrace green retailing is Marks & Spencer (M&S), a leading UK-based food and clothing retailer. As part of Plan A, the company's 100-point eco plan, M&S aims to tackle climate change, reduce waste, safeguard natural resources, trade ethically and build a healthier nation. A specific goal of the Plan is to reduce the amount of energy used in stores by 25 per cent per square foot of floor space.
Seeing an opportunity to help M&S meet its environmental targets, Nualight partnered with SPG, makers of refrigerated display cabinets. Nualight embedded its Vantium Porto LED luminaires into SPG's combination cases, a unit with glass half-doors and a freezer below.
M&S agreed to conduct pilot tests of the cabinets in its Tamworth store in Staffordshire to gauge the viability of the digital lighting. The pilot was successful and M&S agreed to roll out the cabinets across newly-built stores in the UK.
Steve Leach, development and sales director at SPG, said: "The success of the Frozen Food Half Glass Door cabinet is down to the partnership approach and skill set of the three parties involved; the insight from the retailer, the LED technology from Nualight and SPG's display case expertise."
Trial results
The initial trial resulted in a number of benefits for M&S, some even unexpected. One of the most apparent benefits was the reduction in energy consumption, which had a knock-on effect for cost savings. The original fluorescent case lighting (384 watts) was replaced with energy efficient LED illumination (174 watts), which consumed less than half the energy.
The typical lighting used in refrigerated displays is fluorescent tubes. By virtue of their relative inefficiency, combined with the waste heat they produce within the chilled environment, they consume a lot of excessive energy.
By replacing fluorescent lighting with LEDs, refrigeration loading was halved on the lighting load of the case (the energy required to extract this heat from within the refrigerated zone) and merchandising appeal is considerably improved.
Also, the digital lights in the cabinet can be switched off overnight and when switched on will achieve optimum lighting output. This can save many hours of unnecessary energy usage. Cabinets which use fluorescent lights need to remain on due to problems in turning them back on in freezing temperatures, because the tubes become too cold to strike.
The flexibility of the product range allowed M&S to optimise illumination levels and luminaire length and positioning, which enhanced the appearance of the products on display. These low-profile and scalable luminaires can be installed in areas not possible for fluorescent lighting, ensuring the display case is fully illuminated and any dark or shadowed areas are eliminated.
The M&S door and freezer-well luminaires provided such a high level of illumination that the existing fluorescent lighting, positioned in the canopy section, was no longer required. The case manufacturer, SPG, was able to redesign the cabinet to remove the cabinet lighting superstructure, thereby saving the cost of installing and running PLL canopy lighting, and contributing towards the ability to hold cabinet prices in an environment of rising material costs.
Bob Arthur, refrigeration technologist at Marks & Spencer, said: "This project shows the impact of all CO2 reductions that can be achieved by focusing on the niche applications that best match emerging technologies. The beauty of this project is that all of these energy and CO2 savings are achieved with an acceptable return on investment, thus helping to meet both the carbon footprint and financial objectives of the company."
Nualight's Vincent Guenebaut explains: "Our product development is based on sound research, continuous improvement and customer feedback. Our designs now run to fifth and sixth generation. Each step has provided increased illumination, reduced energy consumption and longer lifetime. We extensively test our products in extreme temperatures, both high and low, to ensure we achieve a maintenance free operation over a minimum of 50,000 hours (at least five years)."
Visual appeal
A recent study by Nualight found LED illumination display products are considerably better than fluorescents, making products more visually appealing. Customers are demanding more from their retail experience, making the need for retailers to create "leisure destinations" with lighting playing a part in creating ambient surroundings. This is now more important than ever given the intense competition in the food retail market today and the increase in consumers going online to buy groceries and other retail goods. The lighting quality can make the difference between an item appealing to a consumer or have them pass it by.
As part of the research, Nualight undertook a test with one of its retail customers measuring the effect of using digital lighting in display cases. The retailer replaced fluorescent tubes in a cabinet on one side of an aisle with digital lighting while keeping fluorescents lighting in the facing cabinet. The retailer found sales in the cabinet lit with digital lighting were 19 per cent higher than those in the fluorescent lit cabinet. When customers have difficulty seeing products on sale in poorly lit displays, there is a customer perception that if the lights are not working, neither is the refrigeration.
The SPG cabinet was a finalist in its category in the Cooling Industry Awards 2007, signifying the innovative approach both Nualight and SPG have taken to develop the Frozen Food Half Glass Door cabinet. These annual awards recognise, reward and celebrate the achievements of those pushing forward the boundaries of environmentally-focused refrigeration and air conditioning.
Green vision
Liam Kelly, CEO of Nualight, comments: "As a company with a green vision, we are keenly aware of the environmental challenges facing the world. Nualight understands what retailers need and we respond quickly to change, with improved technology. Consumers now consider social and environmental commitment when deciding where to shop and trust organisations more if they are socially and environmentally responsible. Retailers are leveraging these new opportunities and putting green solutions on their strategic agendas.
"The food retail industry is rapidly evolving as it adapts to new customer demands. With customers increasingly going online, retailers need to create 'leisure destinations' with ambient surroundings and new experiences. Lighting is a key tactic to creating these environments and digital lighting is the next generation technology to achieve this. We are delighted to contribute to Marks & Spencer's green vision from the bottom up and look forward to a continued success in the future."