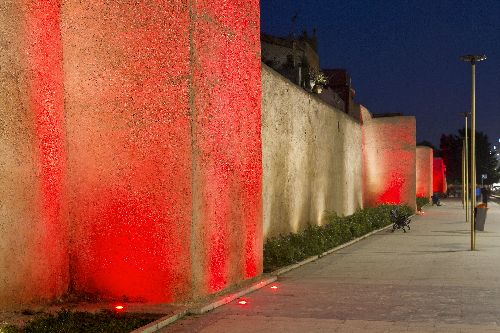 LEC Lyon has announced an LED lighting project in the historic city of Rabat, the Moroccan capital that was recognized as a world heritage site by UNESCO (United Nations Educational, Scientific and Cultural Organization) in June 2012. Moroccan lighting specialist Electrimar handled the design that is based on a mix of warm-white and red solid-state lighting (SSL) products from LEC Lyon.

LED-based lighting is increasingly finding use in UNESCO sites in part because of concerns over light pollution and the need for low-energy usage in older structures with dated infrastructure. For example, we have covered the Schréder project at the Grand Place in Brussels.

Lighting of the walls of Rabat was undertaken along with restructuring of the Hassan II roadway that runs alongside the old-town area of the city. The walls protect the south and west sides of the city and were built in the late twelfth century. The walls stand 8m high and the 1.5-km lit section features architectural elements that the city chose to preserve and highlight with the dual-color project.

"The walls encircle the old city of Rabat, the ones that are enlighted today are the one that are the most visible," said Fouad Bahechar, president of Electrimar. "Every 30m, the turrets project over the street. We thought that this rhythm was interesting to explore; that's the reason why we chose to use two colors, warm white for continuity and red for relief."
Challenges to the project included both the environment and developiing a system that delivered accurate and uniform light. The SSL products had to be shock-proof to handle traffic in the area and also to operate in temperature extremes. Moreover, the project required a provision allowing adjustment of the beams.
Bahechar chose LEC 5716-Allevard spotlights that are designed to be recessed in grade. He said, "LEC products are technical, sturdy, and tailor-made." The variations of the product family deployed integrate 6-7 LEDs to light the 8m height. Moreover, LEC delivered a custom lens to spread the white light over the walls and the red light on the turrets.
The specified fixtures can withstand impacts of 20 joules and are rated IP-68 for double protection against water ingress. Moreover, LEC designed the fixtures to be adjustable after installation. Indeed, the fixtures can be adjusted without the device being dismantled or the seal compromised.
LEC has been behind a number of European SSL projects where LED-based lighting was installed in a novel manner while preserving the historic look and feel of a site. For example, we covered a project in Nîmes, France that included pedestrian tunnel lighting and roadway lighting mounted in curbs.