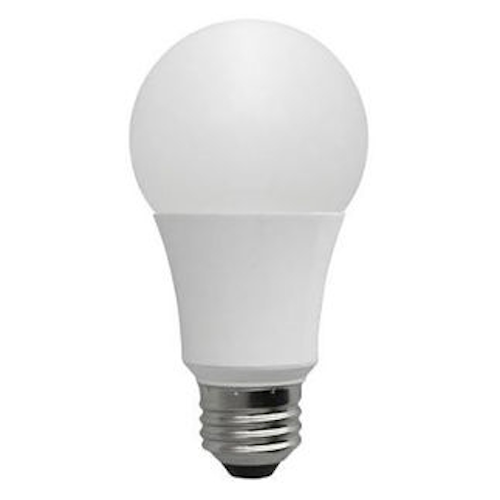 Sold under the PLT brand, the 1000Bulbs 60W-equivalent LED lamp delivers 800 lm with a design that looks much like an A19 lamp.
Internet-based lighting retailer 1000Bulbs.com has set new ground with a house-branded LED lamp that delivers the 800-lm output typical of a 60W incandescent bulb for $5.99. The lamp is not dimmable, and delivers light primarily in the forward direction, but looks and feels much like an A19 incandescent bulb and produces a warm 2700K-CCT glow.
1000Bulbs.com launches 60W-equivalent LED lamp at six dollars
The new lamp is being sold as part of the 1000Bulbs PLT (Precision Lighting & Transformer brand) of products for which the company specifies the design and then works with a contract manufacturer to produce. Marketing manager Luigi Ferguson said that 1000Bulbs conceived the design and has been closely involved in the development process, evaluating samples and ensuring the quality of the product. The PLT 101233A19FR lamp is the retailer's first house-branded A19 lamp.
The company hopes to make an impact based on the price that is perhaps the lowest in the industry for a 60W-equivalent lamp. US retailer Home Depot lists a 60W-equivalent TCP lamp for $8.97 and the Philips SlimStyle lamp for $8.97. "We are proud to release our very own 60W A19 LED lamps under our PLT brand," said 1000Bulbs.com CEO Kim Pedersen. "These lamps are incredible for the price and quality."
The price comparison, however, is not straightforward. The TCP and Philips lamps are dimmable designs and that feature adds cost in the driver electronics. Still, many sockets don't need dimmable lamps. The company did indicate that it would offer a dimmable version in the near future for a $1 premium. Moreover, there will be 40W- and 50W-equivalent products in the line as well.
The other price issue is, of course, rebates. 1000Bulbs did not indicate whether the new design is targeted for Energy Star listing. But our initial review of the lamp would make such a listing unlikely. The lamp produces a nice, uniform warm beam, but the lamp delivers very little light downward toward the base. It's doubtful that the design could meet the Energy Star omnidirectional requirements for A19 lamps. Meanwhile, lamps such as Cree's 60W-equivalent A19 product that sells for just under $10 at Home Depot are eligible for $5 or greater rebates.

1000Bulbs is backing the new lamps with a two-year warranty. The company projects lifetime at 25,000 hours. The products are rated for use indoors and outdoors including in enclosed fixtures. The 800-lm product dissipates 10W. The company has not publicized a CRI spec at this point.