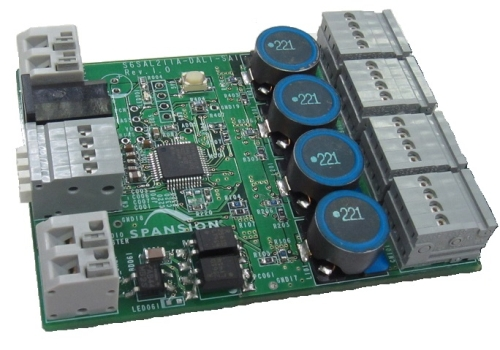 New Spansion microcontroller-based family supports DALI, DMX, and Bluetooth connectivity while also integrating a DC-DC power-conversion stage that can drive four channels of LEDs in a driver design.
Spansion has announced the S6AL211 series of LED driver ICs that specifically target higher-end luminaires with connectivity and smart-lighting features. The microcontroller (MCU)-based design includes an DC-DC power converter stage along with support for multiple connectivity options including the digital addressable lighting interface (DALI), and DMX, and other options such as Bluetooth can be added via modules or additional ICs.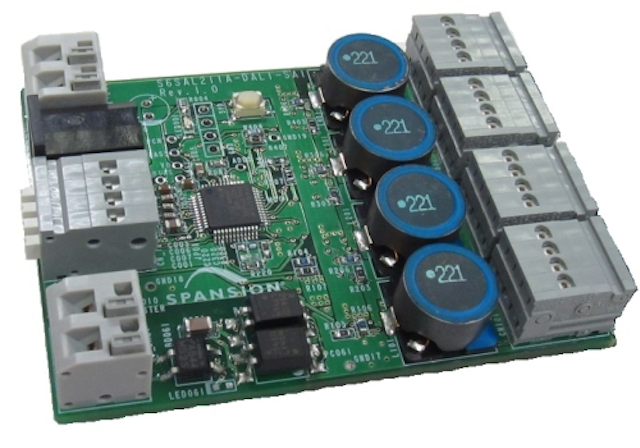 Spansion has announced the S6AL211 series of MCU-based LED driver ICs that specifically target higher-end luminaires.
Spansion has been a minor participant in the solid-state lighting (SSL) space up until this point. Tom Sparkman, senior vice president of the company's analog business unit, said the company has a few million dollars in sales of ICs designed for the LED retrofit lamps segment, primarily in Japan. But going forward, the company will target higher-end luminaires including products with multiple LED channels and intelligent-lighting features, and a global market.
With its introduction, Spansion has claimed to have delivered a single-chip LED driver, although that claim falls a bit flat. The IC still requires an AC/DC converter, a feature regularly integrated in two-stage driver IC products without MCUs. Moreover, the Spansion design also requires additional DC-DC stages for each channel in an SSL product.
Spansion may be unique in integrating a four-channel buck converter with the MCU in an LED-centric IC, and the converter can deliver 72W–18W over each of the four channels. Each channel can drive five LEDs at 1A of current. Still, there are many ways to partition all of the requirements needed in an SSL development.

For example, STMicroelectronics announced an MCU-based IC designed for SSL applications at Strategies in Light (SIL) back in 2013. That product did not have power conversion on chip but did integrate DALI support and pulse-width modulation (PWM) peripherals to handle dimming. In other cases, companies deliver driver ICs that are optimized for use with MCUs. Back at that same SIL conference, Atmel debuted multichannel drivers designed for color mixing and high-CRI applications and those products would likely be paired with MCUs to handle the channel mixing.

Spansion said that its power converter can control current down to as low as 0.1% for precise dimming. The product family supports linear and PWM dimming. Moreover, the company said the IC will reduce PCB real estate by 25% relative to competitive products.
Spansion believes that the design will make it immediately competitive in the SSL sector. "LEDs are clearly on a growth path to outpace legacy lights and will be used in everything from indoor lighting in office buildings, hospitals, and displays in shops and museums to outdoor lighting," said Sparkman. The implication is that all of these markets will benefit from intelligence and several can leverage the advantages of a multi-channel design that can deliver color tuning or high-CRI features. Sparkman added, "Our new integrated IC brings intelligence, power savings, and ease-of-design for customers, allowing them to design solutions rapidly and with the ability to control and change dimness and colors via wired and wireless communications."
The initial S6AL211A31 wil provide DALI support. Later the company will deliver the software-compatible S6AL211A94 IC designed to work with an external Bluetooth modules. Spansion will also deliver a working software stack and development boards that can jumpstart projects.
Of course, it's a fair question to ask why SSL companies should consider Spansion as an upstart supplier of LED and/or power-conversion products. The company is much better known for technologies such as non-volatile flash memory and the ability to integrate that memory in large digital ICs. But Spansion bought Fujitsu's microelectronics division a while back, and that acquisition included groups working on power conversion and MCUs. Indeed, the organization has supplied power ICs for applications such as video games and cell phones in Japan.