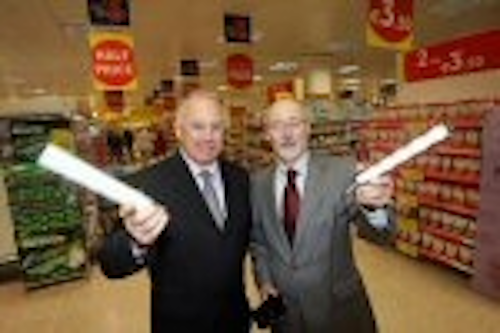 Irish company Nualight, which specializes in LED-based food display illumination, has today announced its selection by leading retailer Tesco in a EUR1million (about $1.3 million) deal to implement its energy-saving LED lighting product in Tesco Ireland's stores.
Tesco's Tramore eco-store, which opened last Friday, will be the first store in the supermarket group's network to display the LED lighting product.
Michael McNerney, Energy Manager at Tesco Ireland, said: "We selected Nualight as a partner because we were pleased with the significant cost savings and enhanced product illumination offered by LEDs. Tesco is committed to cutting its carbon footprint in every area of its business and aims to halve energy use by 2009. This LED initiative helps us achieve this important goal."
Tesco will realize a number of cost and energy saving benefits as a result of the implementation, including a significant cost saving of EUR250,000 a year. By replacing environmentally unfriendly fluorescent lighting with LED-based digital lighting, energy consumption is reduced in the refrigerated glass doors displays by more than 60%.
Also, while fluorescent lamps need to be changed regularly due to frequent failures, Vantium Porto will save on maintenance costs as the product is guaranteed for five years. Tesco is also set to benefit from enhanced merchandising displays as LED illumination offers brighter and better product placement.
Liam Kelly, CEO of Nualight, commented: "Nualight focuses exclusively on food retail, and our Vantium product series is constantly evolving to deliver greener, brighter and more cost-effective solutions demanded by retailers. In the current economic climate, retailers are looking to cut as many costs in their business as possible and investing in green solutions is often the cheapest option."
Also, said Kelly, consumers now consider social and environmental commitment when deciding where to shop. "They trust organizations more if they are socially and environmentally responsible. So simply put, going green makes good business sense."
Nualight, based in Cork, Ireland, says that it is the only company in the world that focuses exclusively on refrigerated display illumination for global food retail. The company beat global lighting giants GE and Philips to win the business.