G-LEC develops media façade for BMW Museum
Around 1.75 million white LEDs have been used to create a media façade inside the BMW Museum in Munich.
Sep 23rd, 2008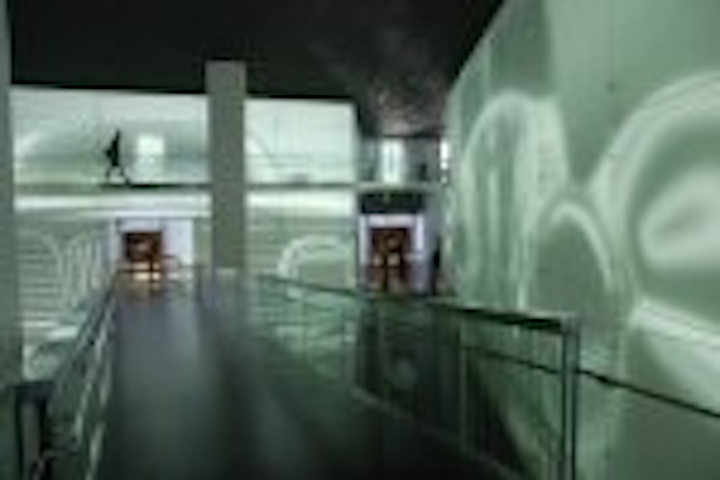 *** Case study written by G-LEC ***
The BMW Museum in Munich reopened in June this year, following a major four year refurbishment of the existing exhibition and renovation of the building. Technology has moved on since the original museum bowl was built in 1973, and dynamic architecture was an essential part of the new exhibition space for a brand museum that wants to be seen as a benchmark.
The automotive giant has carefully combined architecture and exhibition design, focusing particularly on new media, for which it brought in Berlin-based ART+COM. The highlight of the 25 exhibition rooms is BMW Square, where a massive LED installation transforms the walls into so-called "mediatecture".
Developed by ART+COM in conjunction with G-LEC, a developer of LED lighting products, the installation comprises white surface-mounted LEDs pitched at 20mm on white printed circuit boards.
At the heart of the system is the ability to individually control each one of the 1.75 million LEDs, plus the means to cut each PCB into pixel sized increments in order to fit the installation tightly around the shape of the space, including bridges, archways and wall fixings.
A total of 700 sq. m is covered with the circuit boards, the main challenge of such a space being to ensure that all the LEDs were at an exact color temperature of 5600K.
The walls were then transformed into a media façade with the addition of huge panes of sand-blasted glass placed at a specified distance in front of them.
A special wall-mounted "spider" bracket was developed to mount the PCBs seamlessly onto the wall, with special covers to mask the joints.
The development of the installation, which was project managed by G LEC, took 18 months. More details of G-LEC's Chimera system can be seen in the company's press release.